What Is CEX.IO?
CEX.IO is a globally licensed cryptocurrency exchange that allows users not only trade and invest in cryptocurrencies, but also to borrow from the platform effectively. Thanks to its extensive selection of tradable assets and cutting-edge trading facilities, the platform is an absolute goldmine for experienced veterans who want to earn big from hefty trading. For novice traders though, the platform's multitude of capabilities can be a bit overwhelming. Created by visionary entrepreneur and CEO Oleksandr Lutskevych, CEX.IO is a powerful platform that quintessentially bridges the gap between traditional and crypto economies.
CEX.IO is powered by an internal mining pool named GHash.IO. The company was established in 2013 as a supplier of Bitcoin cloud mining and a marketplace for hashing power, aspiring to empower all traders to receive Bitcoin mining profits without installing expensive mining hardware for hefty trading. Following GHash.IOs shutdown due to a lack of profitability in late 2016, CEX.IO decided to halt cloud mining. Instead, the business changed its emphasis to creating a global ecosystem of bitcoin exchanges.
With more than 4 million users now, CEX.IO is now a full-proof robust licensed cryptocurrency exchange. It caters to three market sectors, referred to as "Everyone, Traders, and Businesses," and offers goods and services for each. This cryptocurrency exchange with headquarters in London now accepts more than 100 different digital coins and tokens, including Uniswap (UNI), Ethereum (ETH), Litecoin (LTC), and Bitcoin (BTC). A global crypto exchange network that serves more than four million customers has been developed by CEX.IO, which is accessible in 99% of nations and 48 U.S. states.
How Does the CEX.IO Exchange Work?
CEX.IO has established itself as a reliable and trusted financial partner by having Money Transmitter Licenses and authorisation from the US Financial Crimes Enforcement Network in over 30 states in the US. With its expanding reach into new markets, CEX.IO continues to provide specialised financial services and comply with regulatory requirements to meet the needs of its niche fintech customers. Although CEX.IO is a global crypto exchange and is available in most countries, on account of political restrictions, there are some places where its services cannot be processed as of yet. To use this exchange, you must be prepared to go through the Know Your Customer (KYC) process, which is a mandatory requirement.
A wide selection of payment options is essential when choosing a cryptocurrency exchange. In case of CEX.IO, they allow you to buy Litecoin using a debit card, credit card, or online wallets like Epay and Skrill, as well as local or international bank transfers (SWIFT, ACH, SEPA, Faster Payments). For any other cryptocurrency on CEX.IO, the same is true.
At CEX.IO, you may buy cryptocurrencies and deposit money using payment cards in any local currency. Simply select the desired currency (EUR, GBP, USD or RUB) on CEX.IO and verify that conversions and international transactions are permitted with your Visa or MasterCard credit card. The funds will get immediately transferred to the desired currency at your bank's rates.
The cost of a transaction may influence where to buy cryptocurrency. Just keep in mind that prices change based on the payment method and the services you've used. Payment alternatives without commission are also available on CEX.IO. Additionally, if you are an active trader, you might be able to access or enhance some trading techniques because maker/taker costs are less expensive.
Defining Features and How Does CEX.IO Fare Against Established Brokers? 
Since CEX.io has kept a more discreet profile compared to its more established counterparts, users scores online point in the direction of Binance or Kraken as some of the most popular alternatives. Nonetheless, it is exactly this which makes it a more refined choice, specifically because of how it has chosen to cater to a more exclusive audience. Those who find their way to the platform will be bewildered by the arguably unmatched  number of user-friendly features available even on their mobile app, qquickly allowing users to maximise profits and easily keep an eye on their bankroll. After extensively vetting the broker for all its features, we have concluded that it is only a matter of time before CEX.io will outperform most other major established brokers. We will elaborate on our reasons down below.
CEX.IO's MD Rich Evans, emphasises the importance of balancing diversification and risk management in the cryptocurrency market amidst market headwinds. By listing only credible projects, CEX.IO aims to find common ground that combines guardrails and scrutiny with ample room to grow and ideate. Evans believes that critical Web3 infrastructure, essential service providers, and projects improving interoperability between different blockchains offer utility value that can deliver returns for investors. As staking takes a greater role in accruing value, CEX.IO saw a marked increase in staking across its individual and institutional products amidst the recent bull run.
Low Fees for Spot Trading
The commissions on the spot trading platform, which is CEX.IO's default choice, are quite low. The highest trading cost is 0.25%, and they depend on how much you trade. Because of this, you ought to stay on the primary platform whenever possible and steer clear of Instant Buy. If you just use bank account transfers, you can avoid paying the potentially high deposit and withdrawal fees.
Organised Lists of Cryptocurrencies
The trading platform of CEX.IO has tabs for many cryptocurrency types. You may want to look at "Majors" if you are searching for the largest cryptos. Click on "DeFi" if you are interested in decentralised finance (DeFi) tokens. You can create a list of your own preferred cryptocurrencies in addition to the numerous other useful lists mentioned above.
Strong Security
Any crypto exchange must be secure, and CEX.IO shines immensely in this aspect. When this exchange was first established in 2013, none of the bitcoin funds belonging to its users was ever lost. Along with data encryption and offline crypto storage, it also uses other state-of-the-art security to protect its customers' accounts and cryptocurrency.
What Cryptocurrencies Can I Trade on CEX.IO?
A diverse portfolio brimming with a large myriad of available cryptocurrencies to trades is the foremost consideration for most users when choosing the right broker. It incentivises users to continue trading on the same platform when they know they have a wide array of tokens to choose from at the most advantageous moments in the market. CEX.IO facilitates trading on 200 crypto markets, including "BTC/USD (BTC to USD), ETH/GBP, DASH/EUR, ADA/USDT", and others. Additionally, the service is more convenient because it accepts a wide range of payment methods, including credit and debit cards from "Visa and Mastercard, wire transfers (SWIFT, SEPA, AHC, FasterPayments), and electronic wallets (Skrill, Advcash, Epay, etc.)". With the addition of new cryptocurrencies regularly, CEX.IO now supports over 100 digital currencies and tokens. Here are a few of the most well-known cryptocurrencies that are being traded on CEX.IO:
Cardano (ADA)
Bitcoin Cash (BCH)
Cosmos (ATOM)
Litecoin (LTC)
Tezos (XTZ)
Uniswap (UNI)
Tron (TRX)
Zilliqa (ZIL)
Cryptocurrency exchanges with more investment alternatives may be necessary if you prefer smaller-scale coins. With CEX.IO though, there's something for everyone, no matter where they are in the world. The platform is a great choice for users in the United States looking to get involved in the exciting world of cryptocurrency. With over 40 different coins to choose from, they can easily find the right one to fit their needs. For users further afield, the selection is even greater, boasting a lineup of over 100 different tokens. That's certainly not awful, and to CEX.IO's credit, it allows you access to the majority of all major cryptocurrencies.
Fees
The commissions on the spot trading platform, which is CEX.IO's default choice, are quite low. The highest trading cost is 0.25%, and they depend on how much you trade. Because of this, you ought to stay on the primary platform whenever possible and steer clear of Instant Buy. If you just use bank account transfers, you can avoid paying the potentially high deposit and withdrawal fees. It employs a maker-taker fee structure. This implies that you will be charged a taker fee if your order is filled right away. You will be billed a maker fee if your purchase is not filled right away. Trading fees are based on each user's 30-day trading volumes, recalculated daily at 00:00 (GMT). New and low-volume users will pay a 0.25% taker fee and a 0.15% maker fee. The CEX.IO fee structure for trading volumes up to $100 million over a 30-day period is as follows: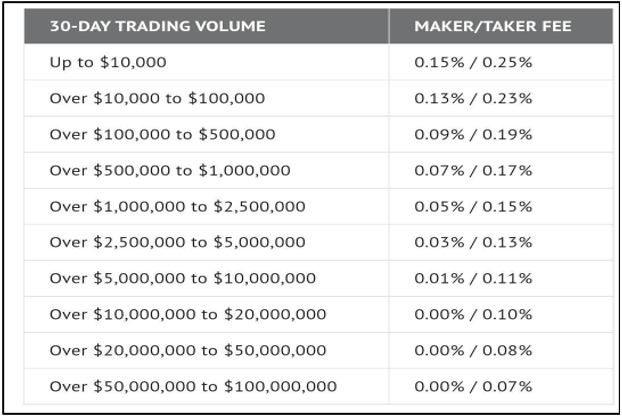 Although this exchange accepts numerous payment methods, its fee structure for deposits and withdrawals is complicated. Depending on the payment method which you choose, there may be commissions and costs for deposits and withdrawals. To avoid fees, always use ACH transfers from a bank account. The following is CEX.IO's schedule for deposit and withdrawal fees: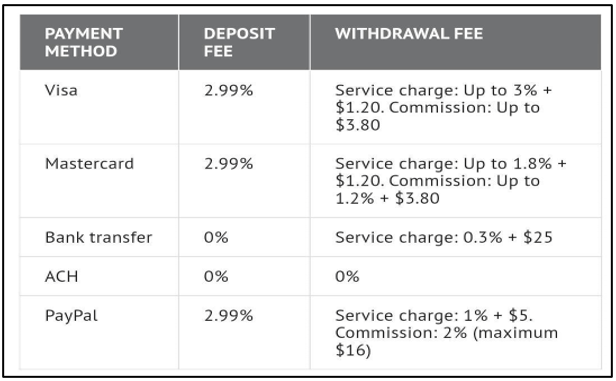 USPs and Unique Attractive Features of CEX.IO
The Earn Program, which enables you to earn incentives on your cryptocurrency holdings, is one of CEX.IO's greatest features. The following cryptocurrencies are available for U.S. consumers to stake and receive rewards on:
Solana (SOL)
Cardano (ADA)
Polkadot (DOT)
Although CEX.IO Earn also provides cryptocurrency savings accounts with attractive interest rates, it is currently unavailable only in the United States.
On CEX.IO, there are numerous trading interfaces. The primary spot trading platform offers charts and a variety of order types, making it a little more complicated but not too challenging to learn.
Additionally, CEX.IO provides a really easy Instant Buy option. Simply enter the quantity and the kind of cryptocurrency you wish to purchase. Instant Buy is simple to use but can be very pricey, and fees might reach a maximum of 7%.
There is also the option of margin trading, but not in the US. The exchange provides institutional trading through CEX.IO Prime for companies.
Any crypto exchange must prioritize safety, and CEX.IO shines in this regard. Since its inception in 2013, this exchange has always retained all bitcoin funds belonging to its users. Along with data encryption and offline crypto storage, it also makes use of other state-of-the-art security measures to protect users' accounts and cryptocurrency.
A Step-by-Step guide on How to Start Trading on CEX.IO
Using Instant Buy to purchase cryptocurrency is a relatively straightforward process:
Step 1: Launch the CEX.IO mobile app or website Buy/Sell page.
Step 2: Pick the fiat currency to use and the cryptocurrency you wish to purchase from the dropdown list.
Step 3: Select the pre-calculated pack or type in your own quantity.
Step 4: Choose a payment method: debit/credit card or balance on CEX.IO.
Step 5: Verify your entry of the information once more and complete the transaction.
You can sell cryptocurrency in the same way and instantly receive fiat money on your payment card using the Instant Sell option in the CEX.IO mobile app.
On the other side, you can go to the Trade page if you want to increase your cryptocurrency experience and begin trading cryptocurrencies by putting in limits and market orders. Check it out using the CEX.IO mobile app or the CEX.IO website. CEX.IO supports more than 100 markets for crypto-to-crypto and crypto-to-fiat trading. To locate the right market more quickly, use a search field. Additionally, the CEX.IO mobile app's Exchange feature lets you switch between currencies at any time.
The CEX.IO Exchange accepts market orders and limits orders as methods of trading. Market orders are used to buy or sell assets at the best price listed in the order book and have an immediate execution time. Limit orders, on the other hand, let you choose the price at which you want to purchase or sell. The price must reach the desired level or there must be opposing orders in the order book that may execute your limit order, therefore their execution might not happen immediately.
CEX.IO strives to make it easy for beginners to take their first steps into cryptocurrency. With a wide range of options, they make it easy for users to find the right option to suit their needs. It is therefore advised to learn first about the platform, choose the payment method and service that works best for you, and then only reap the platform's provided benefits.
It would help if you first funded your CEX.IO balance in order to execute limit and market orders for cryptocurrency trading. There are various ways to accomplish that:
A debit card
Money transfer (SWIFT, SEPA, ACH, Faster Payments)
Cryptocurrencies
Your jurisdiction and the degree of account verification determine the payment options. Here is a comprehensive explanation of how to fund your CEX.IO account and trade cryptocurrencies.
Making a deposit
To deposit money, either go to the Finance page and select the currency of your choosing, then click the Deposit button to the right of it, or click the Deposit button in the top right corner of the screen.
Step 1: With the help of your external wallet, you can transfer and receive cryptocurrency.
Step 2: Your debit or credit card must first be linked if you want to deposit using one.
Step 3: You must complete Identity and Address verification to deposit by bank transfer.
On the Finance part of the CEX.IO website, click the Limits and Commissions button to get details regarding payment methods and limits for each type of verification.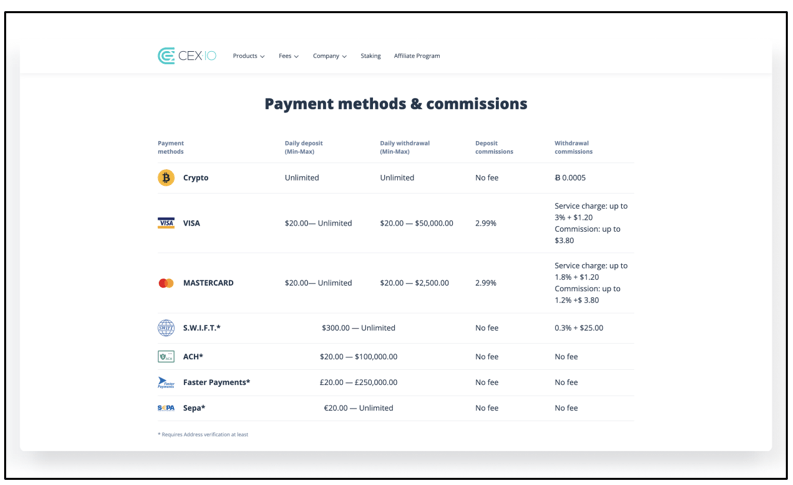 Trading: Sell or Purchase
Step 1: Visit the Trade page on CEX.IO to place an order.
In order to efficiently place an order, you must first visit the trading website at CEX.io.
Step 2: Choose a pair on the left of the chart that corresponds to the fiat money you deposited.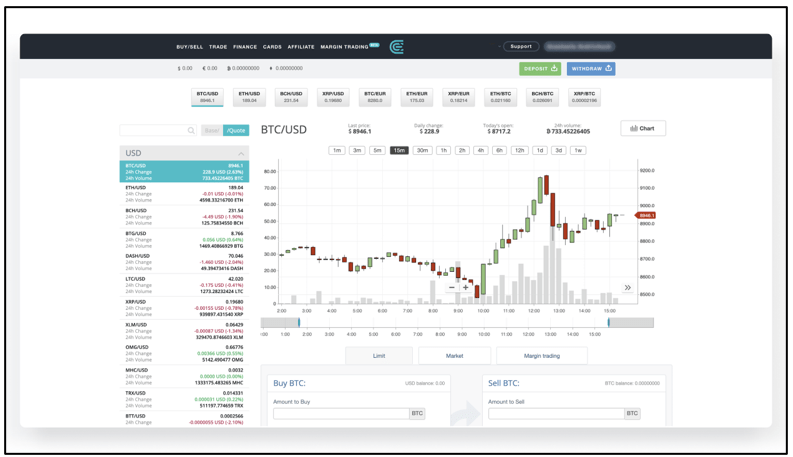 For instance, if you select BTC/USD and click Buy, you can buy BTC and sell USD. If you decide to sell BTC using a similar currency pair, you can also purchase USD.
Step 3: Select the order type (market or limit).
With a market order, you can purchase or sell cryptocurrency at the going rate. Such orders are immediately filled. You designate the price at which you want to buy or sell your cryptocurrency when you place a limit order. Limiting orders are filled when the price hits the desired level or higher.
Step 4: Select the Market tab to enter a market buy order.
To properly enter a market buy order, choose the market tab in the fourth step.
Step 5: Type in how much fiat money you want to spend.
The following field will provide an automatically derived estimate of how many BTC you will get. Next, click Buy now. If you want to sell BTC, select Instant sell BTC, input the desired selling price, and click the Sell now button.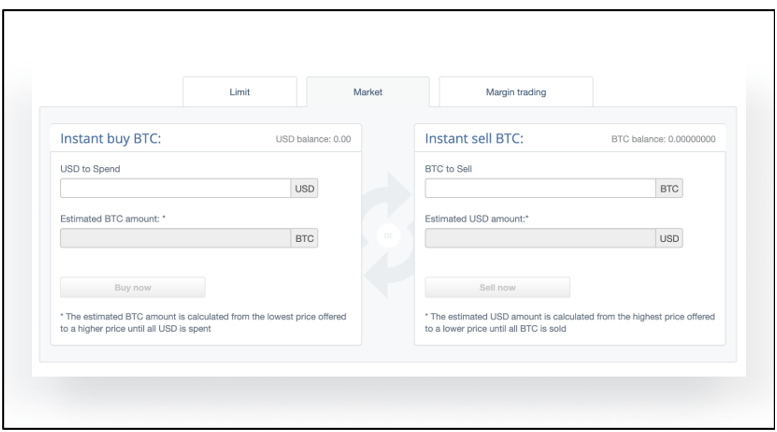 Step 6: Select the Limit tab to make a limit order.
Next, enter the quantity you want to purchase and the price you want your order to be fulfilled at. Click Place order once more. Your limit order will be filled when the price hits the predetermined level, and coins or cash will be added to your balance.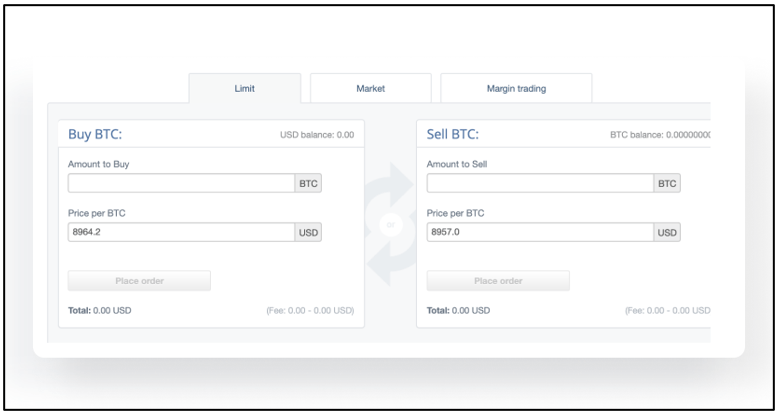 Note
On the Finance page, you can view your balance and trade history.
Is CEX.IO Regulated?
Regulated and authorised to operate: Investors may rest easy knowing that CEX.IO is a compliance platform because it is authorized to do business in all areas where it provides its services.
A large variety of cryptocurrencies are supported: CEX.IO supports a wide range of cryptocurrencies which includes the most popular cryptocurrencies and more than 100 different digital currencies and tokens.
Gives users the chance to earn cryptocurrency: Users can stake cryptocurrencies they hold on the site to generate cryptocurrency revenue.
Provides loans with crypto collateral: Users can obtain loans with crypto collateral in fiat money, allowing devoted cryptocurrency owners to keep their savings in cryptocurrency in the event that a short-term need for fiat money arises.
Is CEX.IO Safe?
As is standard practice for many cryptocurrency platforms, your cryptocurrency is secure on CEX.IO. With great security procedures in place, this exchange has never seen a customer fund loss since it first opened its doors in 2013. One or two of the most significant methods by which CEX.IO safeguards your digital currency and your private data are listed below:
Cold storage is the most secure way to store cryptocurrency as it keeps digital assets offline, disconnected from any type of online access or connectivity. By keeping funds offline, customers are assured that their digital currency is protected from any malicious or unauthorized access.
Two-factor authentication is a security measure that requires users to provide two pieces of information in order to gain access to their account. It is an extra layer of security that requires users to enter their account password and a code sent to their mobile device. This provides an additional layer of protection to ensure that only authorized users can access the account.
The Payment Card Industry Data Security Standard is followed, and SSL encryption is employed. Additionally, user data is exclusively accessible to authorized CEX.IO employees.
It's also important to note that CEX.IO is dedicated to abiding by laws and working with authorities. It is unlikely for CEX.IO to experience the same legal problems as some other exchanges that have attempted to circumvent the restrictions.
Does CEX.IO Have an App?
With the CEX.IO mobile app, you can immediately swap, buy, and sell cryptocurrencies from any location.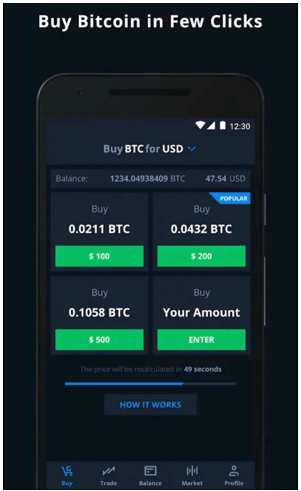 By trading 200+ crypto pairings or just making money using services for crypto staking and crypto savings, you may take advantage of the advantages of the cryptocurrency economy.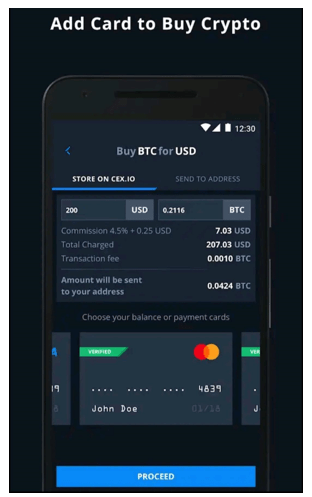 Use your debit card, credit card, or available balance on CEX.IO to purchase Bitcoin and other cryptocurrencies.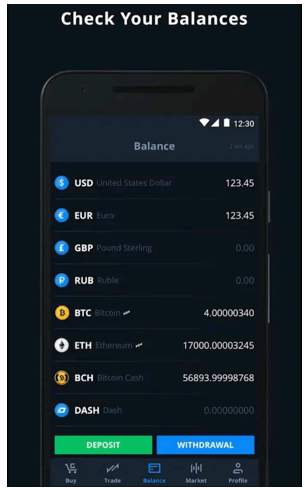 There are more than 80 supported currencies, including the top market capitalization performances, a variety of DeFi tokens, and ERC-20 tokens.
Each trader's demands are met through the CEX.IO mobile app, which includes all of the platform's capabilities. A web version is not necessary.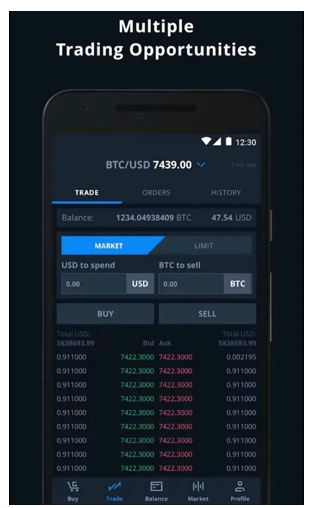 Your ability to quickly view extensive information about your balance and transactions is made possible by CEX.IO Wallet for Android devices.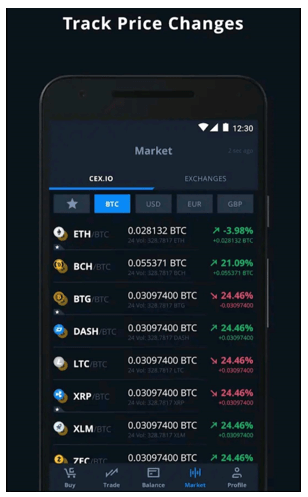 Furthermore, the most crucial functions and services are constantly available to you.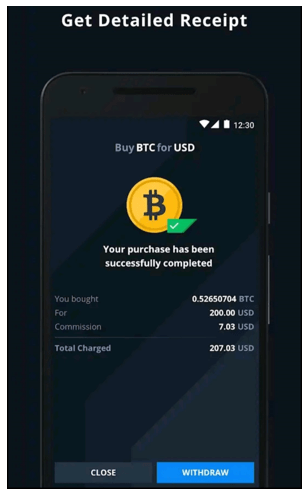 Support and Customer Care Team
One of the core strengths is its customer support facility which is up for each of every one of its users, 24/7. For formal communication, CEX.IO offers a number of channels. Your private requests cannot be fulfilled through these means, though. Please get in touch with our Customer Support if you need assistance. Customer Support can be reached directly through the following channels:
Live chat and email
Here are how to have your queries answered if you have any.
Help Center
You may find quick tutorials and advice on using the CEX.IO platform below to help you with frequent problems. Contact the Customer Support staff via one of the methods listed below if you are unable to fix your problem on your own.
Live chat
When contacting customer support, use this route as a priority. On any page of the Help Center and CEX.IO websites, look for the live chat button in the lower right corner.
Recommendations
Don't start several chat threads about the same topic. Your request might take longer to process if you do this.
Continue in the main thread made for this request if you need an update on the situation or wish to ask a new question. Click Continue talking in the Live chat window to accomplish this.
Latest Updates
According to a Rolling Stones opinion piece, Blockchain and AI are the perfect match. AI can learn from data and automate repetitive tasks, but it needs a secure system to store data. Blockchain provides that security, making it the ideal partner for AI to scale and maintain its integrity. In the face of the overwhelming AI media narrative, the potential of blockchain's capabilities can easily be dismissed. However, it is crucial to recognize that AI needs blockchain technology to realize its full potential. Together, they can help create a better future for all.
Conclusion
CEX.IO is a leading crypto exchange platform known for its customer-centric approach, providing a safe and secure ecosystem for crypto trading. As voiced by Jonathan Wykes, CEX.IO MD, pioneering efforts of the platform boast being one of the first to allow credit card and debit card payments and the first to offer direct purchases using Bitcoin and Ethereum. This dedication to putting the customer first has contributed to CEX.IO's longevity and reputation as a top platform for crypto investing.
If you are looking to make money with cryptocurrency, CEX.IO is a great option. This secure and regulated exchange offers a convenient and user-friendly interface to help you trade cryptocurrencies. You can also open a CEX.IO savings account or take advantage of the staking services to quadruple your investments. With these tools and features, CEX.IO is a great way to get started with cryptocurrency trading. If you want to stake cryptocurrency and receive incentives, CEX.IO is the exchange for you. The platform also facilitates multiple payment options and alternatives, which is an excellent option for both novices as well as experienced traders beginning in the field.
Crypto products and NFTs are unregulated and can be highly risky. There may be no regulatory recourse for any loss from such transactions.