The indispensable nature of water cannot be overstated. As human activities continue to exert increasing pressure on the environment and deplete water resources, this life-sustaining, primordial element is anticipated to become increasingly scarce. Consequently, the idea of trading water as a commodity, akin to silver, oil, or gold, has emerged. Currently, billions of dollars circulate through the Chicago Mercantile Exchange (CME) in the form of water futures.
Notably, India, one of the world's largest economies, harbors roughly 18% of the global population yet only about 4% of the world's water supply. Given the rising temperatures and unpredictable rainfall patterns, the demand for water in this Southeast Asian nation is set to intensify.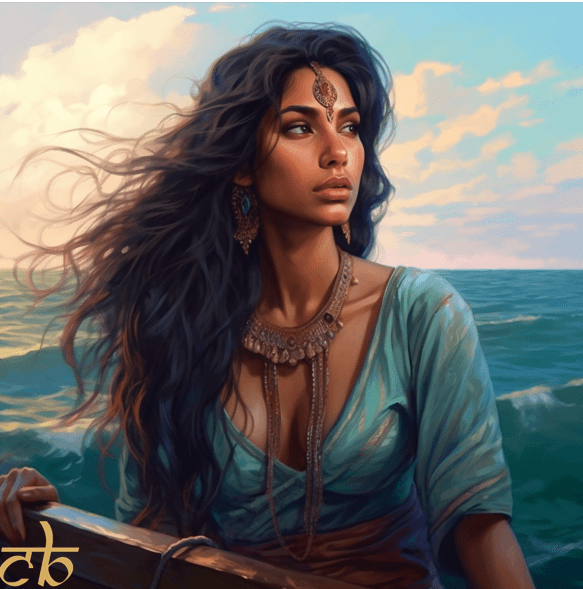 As projections already anticipate a scarcity of water, investors are starting to speculate on the future value of this essential commodity. An intriguing facet of water trading is that it merely pertains to the price of the commodity. Investors do not acquire water rights from municipalities or indigenous groups. A water futures trade constitutes a contract between two parties on a futures exchange, allowing them to speculate on the future price of water in a specific region.
This futures market for water offers investors the opportunity to make an educated guess on the commodity's future price and capitalise on their predictions. Investing in water carries numerous benefits, primarily rooted in the increasing scarcity of this essential resource. Environmental pollution in India and worldwide is gradually making fresh, usable water harder to find.
With a large portion of India's population engaged in agriculture and considering the rising heatwaves and water shortage, the critical importance of water is inescapable. The surge in hydropower popularity, as the world seeks alternative electricity sources beyond burning fossil fuels, further highlights the value of water.
Municipal corporations can also invest in water commodities, utilizing the funds to improve infrastructure and serve their respective communities. Importantly, due to logistical complexities, the physical delivery of water futures is impractical; therefore, these trades should be settled in cash.
Diversifying a portfolio by investing in water presents significant benefits. Alongside assets like stocks, crypto, and gold, water can serve as a steady, long-term investment, immune to temporal changes due to the persistent global water scarcity.
The long-term potential in water futures is vast, driven by the pressing demand from agriculture, the hydroelectric industry, and various other sectors. Consequently, despite fluctuations in the stock and crypto markets, the water sector's demand remains on an upward trajectory.
In This Guide:
How to invest in Water in September 2023
Best Brokerages for Buying Water Stocks and CFDs in India
How to Open an Account with an Online Broker
How to Invest in Water Commodities Through Online Brokers
Top Company Stocks Worth Considering for Water Investments in September 2023
Prominent Water ETFs for September 2023
Risks and Challenges of Investing in Water Commodities
Market Size and Projections
Water: A 'Secure' Investment Prospect
Conclusion
FAQs
How to Invest in Water in September 2023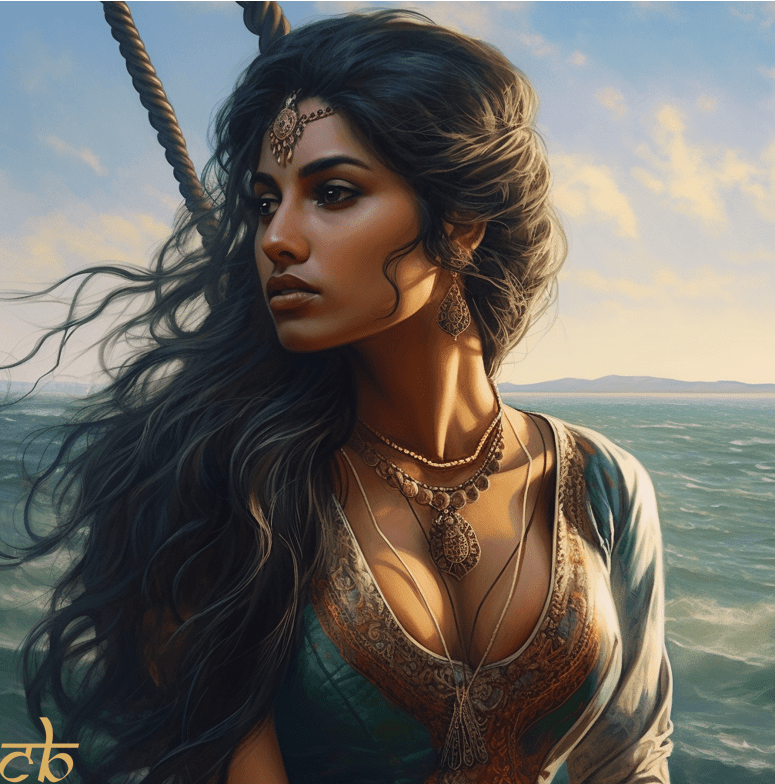 As the world grapples with climate change and burgeoning population growth, water scarcity and sanitation have become pressing global issues, making the water sector an increasingly important area of focus for investors. From supporting agriculture and industry to facilitating essential daily activities, water is indispensable, rendering investments in this sector both a potential source of returns and a means to contribute to a sustainable future.
But how does one go about investing in water? There are several paths to consider, each with their distinct features and risk-reward dynamics. Some investors might choose to invest directly in water-related stocks, while others might prefer the diversification provided by water-focused Exchange-Traded Funds (ETFs). Those with an appetite for higher risk might venture into water futures, betting on the price direction of this precious commodity. Alternatively, purchasing farmland in water-rich areas offers a tangible and often profitable investment strategy.
In the following sections, we delve deeper into these investment pathways – futures, stocks, ETFs, and farmland. Whether you're a seasoned investor or venturing into water investments for the first time, understanding these options can equip you with the knowledge to make informed decisions, aligning your portfolio not just with potential financial gains, but also with the world's vital need for sustainable water solutions.
Exploring Water Commodity Futures
As an investor exploring the water sector, you might want to consider the path of water commodity futures. This approach, albeit laden with risk, presents potential for significant returns. Water futures involve buying contracts for water at a pre-determined price, slated for a future date. These contracts are typically sold by companies or governments that exclusively own high-volume natural clean water sources.
Such futures contracts are a common instrument for trading commodities that are not yet in existence. However, the risk element cannot be overlooked. Water futures essentially represent a gamble on the future direction of water prices. Developments in water desalination and filtration could influence these prices by increasing the available supply. On the other hand, persistent consumer demand for natural spring water continues to sustain the profitability of natural springs. Investors interested in a higher-risk, higher-reward strategy might consider this avenue.
Venturing Deeper into Water Commodity Stocks
Investing in water commodity stocks can be more complex than it might first appear. It requires an understanding not only of the individual companies and their financial performance but also a broader perspective of the water industry's global dynamics.
For instance, the regulatory environment plays a significant role in the water industry. Given that water is an essential human right, it's often subject to governmental regulation, which can impact the profitability of water utility companies. It's essential for investors to be cognizant of this regulatory landscape, tracking potential policy changes that might affect company operations and profitability.
Water scarcity and climate change can also impact the value of water stocks. Companies that are leading in water efficiency or those investing in new technologies to secure water supply (such as desalination or water recycling technologies) can present a more sustainable long-term investment. Furthermore, companies that own water rights can become more valuable in areas where water scarcity becomes a pressing issue. Hence, being knowledgeable about global water challenges and how individual companies are addressing these issues can be a critical edge when investing in water stocks.
Sailing to New Horizons with Water Commodity ETFs
Water ETFs, while providing a simplified entry into the water sector, also require a nuanced understanding for optimal investment outcomes. For starters, investors should understand the composition of the ETF: what companies are included in the ETF, their individual weightage, and the sectors they represent. Some water ETFs might be heavily focused on utilities, while others might also include companies involved in water equipment and infrastructure, or even technology firms providing solutions for water treatment or conservation.
Understanding the investment strategy of the ETF is also important – whether it's actively or passively managed, and what index it is trying to replicate. Each approach can have different outcomes depending on market conditions. For example, in a volatile market, an actively managed ETF might outperform by quickly adjusting to changing market conditions.
Moreover, it's important to evaluate the ETF's expense ratio and how it might impact returns over time. While ETFs offer diversification benefits, these could potentially be eroded by high expenses. An analysis of past performance, although not a guarantee of future results, could also provide insight into how the ETF has managed during various market cycles.
Investors must also be mindful of the liquidity of the ETF – a less traded ETF could have larger bid-ask spreads, making it more expensive to trade.
Understanding these dynamics specific to water trading can allow for more informed and, ideally, more profitable decisions, whether you're a seasoned trader or new to the world of water investments.
Investing in Water-Rich Farmland
Another compelling strategy for water investment is the acquisition of farmland, particularly in water-rich regions. Prominent figures like Burry and Bill Gates have famously employed this strategy, capitalizing on the integral role water plays in agriculture and, by extension, industries such as food and textiles. Companies have been procuring rights to natural water sources for an extensive period, highlighting the enduring value of such assets.
While acquiring large tracts of fertile, water-rich land may seem beyond reach for many investors, platforms like Harvest Returns and Acretrader have democratised this process. For accredited investors, Acretrader offers an opportunity to profit from productive farmland. Earnings are derived not only from rent paid by farmers but also from the long-term appreciation of land value.
For those not accredited but still eager to invest in productive farmland, Harvest Returns provides an accessible avenue. With a lower investment minimum and lower fees, Harvest Returns allows qualified investors to invest in farms and agribusiness, earning passive returns on a quarterly or monthly basis. This platform represents a convenient and viable way to gain exposure to water-rich farmland, thereby indirectly investing in water.
Best Brokerages for Buying Water Stocks and CFDs in India: 
Both Admiral Markets and Libertex can be used by Indian customers to buy water stocks or otherwise invest in water as a commodity in India.
Pros
Over 40,000 active clients from 110+ countries, carrying out an average of 1.5 million trades per year.
Competitive spreads as low as 0.5 pips and up to 500:1 leverage for forex trading.
Provides access to over 8,000 trading instruments, including 40+ forex pairs, 200+ stocks, and 5+ cryptocurrencies.
Cons
Admiral Markets has relatively high minimum deposit requirements for some account types, such as those in GBP.
Some users have reported slow response times from customer support, during excessively busy periods.
Pros
0% fees on stock trades, minimum deposit of only $10 or equivalent
Over 322 tradable assets available
Unmatched user-friendly interface, easy for beginners to catch on
Cons
Unavailable in some countries, including the United States
Only features two types of accounts (Demo and Standard)
Admiral Markets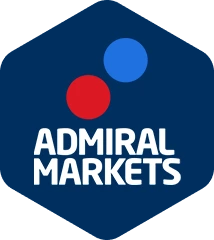 Admiral Markets is one of the best choices to sail the seas of water investments, as even the name implies. It is biggest globally regulated online brokerage platforms that offers trading on more than 8,000 financial instruments, ranging from forex, commodities, shares, cryptocurrencies, CFDs, indices, etc. It offers as low as 0.5 pips of competitive spreads and up to 500:1 leverage to its forex traders.
Founded in 2001, Admiral Markets is an easy-to-use platform with reliable customer support. While serving more than 40,000 users from over 110 nations, it offers registered traders instant access to multiple MetaTrader platforms.
Notably, Admiral Markets is regulated by the multiple financial regulatory agencies around the world, including Financial Conduct Authority (FCA), the Cyprus Securities and Exchange Commission (CySEC), the Australian Securities and Investments Commission (ASIC), and the Jordan Securities Commission (JSC).
In collaboration with MetaQuotes Software Corporation, this top online brokerage platform in India offers a variety of trading tools to its customers, including MetaTrader 4 (MT4), MetaTrader 5 (MT5), MetaTrader Supreme Edition, and MetaTrader Web Trader. The platform also offers a Demo Account to its users with virtual funds worth $10,000.
Admiral Markets offers leverage up to 1:30 to all its retail users:
Forex – 1:30 maximum leverage
Indices & commodities – 1:10 maximum leverage
Stocks, ETFs & bonds – 1:5 maximum leverage
Cryptocurrency – 1:2 maximum leverage
While most of the methods for withdrawal and deposit are easy and instant, bank transfers take about 3-4 business days. Users can start trading different financial instruments with a minimum deposit of $100. Most of the deposits involve zero fees except e-wallets Skrill and Neteller, which cost 0.9% of the deposit amount (minimum $1).
Furthermore, transfers can be handled via various popular ways, including bank transfers, PayPal, Skrill, and Neteller. Bank transfers usually take up to three days to process, but the latter three are processed immediately. Admiral Markets allows its traders two withdrawals per month with a minimum withdrawal amount of $1.
Interestingly, despite the worsening macroeconomic conditions worldwide, Admiral Markets is gradually increasing its global presence. The platform has recently expanded its offerings for the Indian investors and has become one of the best training platforms in India.
Libertex
Libertex is an online trading platform that offers trading on a variety of financial instruments, including commodities, Forex, cryptocurrencies, ETFs, among others. Funded by Indications Investments Limited in Cyprus, the platform is operated by Forex Club International LLC.
Libertex allows users to start trading on the platform with a minimum deposit of as low as $50. It has support for a variety of flexible methods to pay through wire transfer, including VISA, credit cards, and electronic payment gateways like iDeal, Giropay, Neteller, Sofort, Trustly, Rapid Transfer.
The platform also offers a demo account to the users who are new to trading and want to get some experience on the platform before investing their money. Libertex, which currently provides services to around 3 million users globally, holds over 250 tradable assets and has recently shifted its attention to the Indian market.
Libertex has won more than 40 global awards, and in 2022 it won the Most Trusted Broker and Best Crypto CFDs Broker Awards. Similar to Admiral Markets, this fully regulated online broker also adheres to a standard fee structure and earns its revenue through spreads and commission. The commission starts at 0%, and the spread starts at 0.00003. In addition, all deposits are free except the fees imposed by the service providers.
It is important to note that Libertex charges transaction fees and rollover fees for traditional finance instruments. The transaction fee is charged when a user starts a trade while the rollover fee is charged for forex trading and CFD instruments at the end of the trading day (GMT 9 PM).
How to Open an Account with an Online Broker
In order to open an account with an online broker like Admiral Markets, one needs to follow a few simple steps and gain access to the platform and invest in water as a commodity.
Interestingly, you will see an interface like the one below. Now, the first step to start your investment journey is to register with your mobile number or email and thereafter, input a password which seems fit for usage. If you already have an account, you can sign in with your credentials. Click here to visit the Admiral Markets website and register, rendering yourself eligible to claim a 100% welcome bonus after making your first deposit, doubling your investment funds from the start.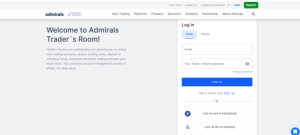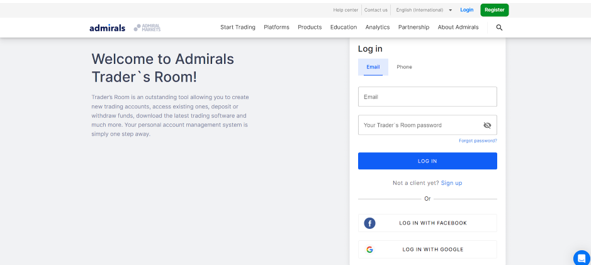 In order to register yourself, you will need to enter all the details regarding your residence and email along with your phone number. Consequently, you will be asked to sign up and then, you will have to verify your email.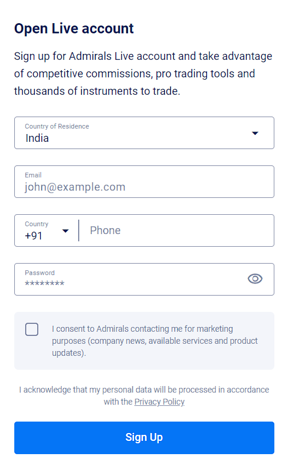 A notification will come on your screen asking you to confirm the fact that you are aware of the risks associated with trading stocks and other commodities and assets. Financial markets are often prone to risks and it is imperative to tread with caution.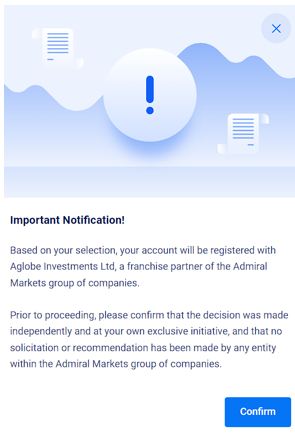 You will be asked if you are opening an individual account or if you are a corporate entity which will have a different set of limitations and account needs. Furthermore, in order to activate your account, you will be asked some other details regarding your investment experience.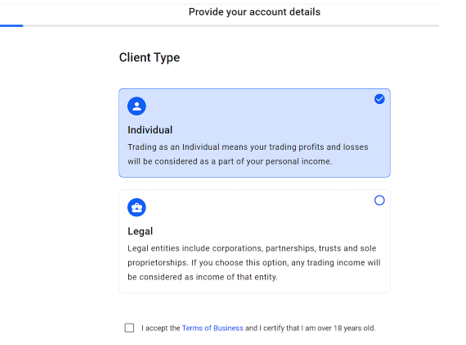 Next, in order to activate your wallet, you will be asked to enter a few personal details like name, date of birth, and other things.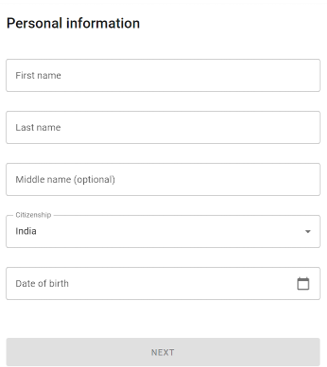 As shown above, you will need to mention your identity and address along with your mobile number and email in order to successfully start trading with Admiral Markets. Almost every online brokerage platform operates on a similar capacity and demands similar information.
Now, all that is left is for you to make your first deposit and claim your match welcome bonus, doubling your investment funds for free.
How to Invest in Water Commodities Through Online Brokers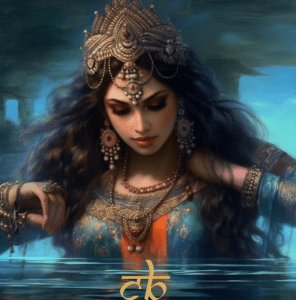 There are plenty of ways to invest in water commodities. These are in the form of water exchange-traded funds and water futures. As explained above, water futures involve the creation of a contract between two people who place a price tag on the future of the price action of the commodity.
Such futures contracts are common in the crypto and stock markets but are subject to significant losses in case investors are wrong. Therefore, investing in water futures is only advised when you have the knowledge and right tools. Interestingly, the long-term potential of water is endless and as time passes, the demand continues to increase and supply is decreasing due to human intervention in the climate.
The increase in hydroelectric projects and the gradual enhancement of agricultural needs confirms that water commodities will gain huge traction in the near future.
Investors can also purchase water exchange-traded funds or ETFs. Water ETFs are known for investing in companies involved in the treatment and purification of water, as well as its distribution. Some of the biggest water companies include Germany-based BASF SE (BAS.DE), 3M Co. (MMM), and ITT Inc. (ITT).
Currently, water ETFs are used as defensive positions in a portfolio but in the near future, if the scarcity of water worsens on a global scale, these ETFs can be used in an offensive position as well. However, currently the water trading industry is quite small but rapidly increasing as well. On the other hand, last year, water ETFs outperformed the S&P 500 as the global macroeconomic situation remains uncertain.
Investors can also put their bets on water commodity stocks which are described as the stocks of those companies that have businesses in the world of irrigation and utilities, water treatment, or other water-related industries. The demand for these stocks is only expected to increase as the world is gradually moving towards water management and increased agricultural needs.
Top Company Stocks Worth Considering for Water Investments in September 2023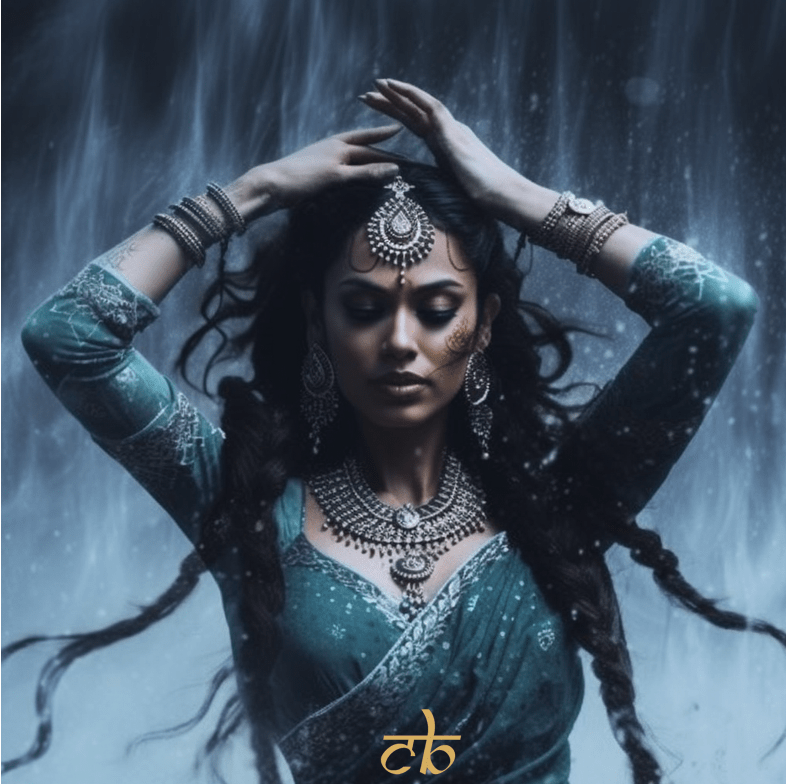 As we delve deeper into the realm of water investments, understanding the market dynamics and key players becomes indispensable. Investing in water requires a keen awareness of the global companies that have staked their claim in this sector, showcasing robust performance and promise for growth. We've curated a list of some of the top water company stocks to monitor, offering insight into their operations and market standings. These companies span from utility providers to water treatment specialists, presenting a diversified range of opportunities in this essential commodity market. Here, we're going to expand on the relevance of each of these companies and what makes them significant for anyone considering investing in water.
Severn Trent (SVT): Hailing from Britain, Severn Trent is a noteworthy water utility company with annual sales amassing £1.677 billion. Positioned on the London Stock Exchange (LSE) and a proud member of the FTSE 100 index, the company represents one of the ten privatised water supply entities in England. Severn Trent's stature in the water utility industry is undeniable, and the company's vast reach may provide stability for prospective investors.Market cap: $5.62 billion P/E ratio: 35.52
Pennon Group PLC (PNN): Based in Exeter, England, Pennon Group stands as a formidable British water utility and waste management conglomerate. It is also listed on the LSE and is part of the FTSE 100 index. Notably, 83% of the company's earnings are derived from its subsidiary, South West Water. This high dependency highlights South West Water's performance and underscores the group's efficiency.Market cap: $4.28 billion P/E ratio: 36.74
United Utilities (UU): As the largest publicly-traded water company in the UK, United Utilities is a significant player in the water sector. Formed from the merger of North Water and NORWEB in 1995, the group regulates water and wastewater networks in North-West England. Its considerable influence on the water sector and presence in the FTSE 100 index warrants attention from investors interested in the sector.Market cap: $ 5.70 billion P/E ratio: 53.46
Veolia Environnement (VIE): French utility and public service company Veolia Environment holds an enviable position on the Paris Stock Exchange and is a member of the CAC 40 index. Supplying drinking water to 100 million people and wastewater services to 65 million people annually, Veolia demonstrates a strong operational base, indicating its potential for sustainable growth.Market cap: $10.82 billion P/E ratio: 76.79
Suez Environnement (SEV): This French global company has a significant footprint in water and waste management, even though its core activities are primarily based in France, accounting for one-third of its revenue. Suez provides valuable services to millions of businesses and individuals worldwide, showcasing its extensive reach and potential for growth.Market cap: $7.71 billion P/E ratio: N/A
American Water Works (AWK): An important water utility company in the United States and Canada, American Water Works primarily operates through local subsidiaries regulated by municipal drinking water and wastewater systems. The company also delivers water sanitation products and services to residential communities and commercial businesses, demonstrating diversified business operations.Market cap: $25.60 billion P/E ratio: 40.08
California Water Service Group (CWT): As a holding company managing water supply and distribution, California Water Service Group provides both regulated and non-regulated services to private firms and municipalities. The essence of its business spans production, purchase, storage, treatment, testing, distribution, and selling water for various purposes, illustrating a broad service range that could potentially ensure steady growth.Market cap: $2.328 billion P/E ratio: 57.12
Beijing Enterprises Water Group (BEWG): This Hong Kong-based investment holding company operates across three different sectors. It handles the construction and operation of sewage and reclaimed water treatment plants, builds seawater desalination plants, and provides construction services for comprehensive renovation projects, showcasing its versatility.
Prominent Water ETFs for September 2023
Invesco Water Resources ETF (NASDAQ:PHO)

Total Assets: $1.71 billion
Description: This fund offers a diverse mix of water-related stocks that include filtration technology providers, utilities, and pumping equipment manufacturers. Managed by the renowned investment management company, Invesco, the Water Resources fund bases its portfolio on the NASDAQ U.S. Water Index, striving to track the performance of companies engaged in water purification, conservation, and delivery. Though not exclusively focused on U.S.-based companies, it heavily leans toward stocks trading on U.S. markets. Notable holdings include Danaher, American Water Works, Roper Technologies, Xylem, and Ecolab. It has a 0.60% expense ratio.

First Trust Water ETF (NYSEMKT:FIW)

Total Assets: $1.25 billion
Description: This fund features a less concentrated portfolio that emphasises water technology stocks, but includes firms operating across the entire water sector. The ETF, sponsored by First Trust Advisors, is anchored on the ISE Clean Edge Water Index, comprising companies deriving a significant portion of their revenue from the potable and wastewater industry. Top holdings include AECOM, Agilent Technologies, Danaher, American Water Works, and Essential Utilities. It has a 0.54% expense ratio.

Invesco S&P Global Water Index ETF (NYSEMKT:CGW)

Total Assets: $950.9 million
Description: Providing broad global water exposure, this ETF is grounded on the S&P Global Water Index. It seeks to allocate at least 90% of its total assets in securities reflecting this index, which measures the performance of the 50 largest global companies in water-related businesses. This ETF's portfolio boasts a more international flavor with holdings like American Water Works, Xylem, Veolia Environnement, Essential Utilities, and Severn Trent. It has a 0.57% expense ratio.

Invesco Global Water ETF (NASDAQ:PIO)

Total Assets: $267.9 million
Description: Tracking the Nasdaq OMX Global Water Index, this ETF showcases a more concentrated global portfolio with roughly 55% of fund assets based in the U.S. It also provides exposure to emerging markets such as China and Brazil. Top holdings include Danaher, Pentair, Ecolab, Ferguson, and Geberit. It has a 0.75% expense ratio.

Ecofin Global Water ETF (NYSEMKT:EBLU)

Total Assets: $57.4 million
Description: This relatively new entrant to the water ETFs market emphasises sustainability. Ecofin only invests in companies deriving at least 50% of revenue from the water industry or those recognised as a top company in a water category. These companies must also rank highly on ESG screening. Top holdings include American Water Works, Ferguson, Ecolab, Geberit, and Veolia Environnement. It has a 0.40% expense ratio.
Risks and Challenges of Investing in Water Commodities
Like investment in any other commodity, investing in water commodities has its own issues ranging from regulatory uncertainty, market volatility to the impact of climatic changes on the limited water resources on the planet.
It is crucial to note that water commodities are not regulated in the same way as other commodities due to the absence of physical settlements and the essential liquid being a birthright of every human. There are many regulators around the globe that believe water to be a human right and not a financial asset or commodity for investors to trade.
Recently, a United Nations human rights expert said that turning water into a commodity and investing in the same violates the rights of many. However, the regulators of the world have been unable to subdue the demand for water commodities due to many investors having faith in the long-term potential of water ETFs and commodity stocks.
However, the water market is a very volatile industry due to the continuous change in the climatic conditions of a region and the effects that these changes can have on the presence of water. Interestingly, experts believe that the entry of water as a commodity in exchanges exposes water to forces of financial speculation and to risks of speculative bubbles.
Market Size and Projections
According to a study conducted by Evolve Business Intelligence, the global market size for functional water was valued at USD 5,420.3 million in 2022 and is expected to grow at a compound annual growth rate (CAGR) of 8.1% from 2023 to 2033. Functional water refers to bottled water that has been enhanced with additional health or wellness benefits beyond basic hydration, such as added vitamins, minerals, electrolytes, antioxidants, or other bioactive compounds.
The growth of the functional water market is driven by various factors, including increasing consumer awareness of the importance of hydration and health, rising demand for low-sugar and low-calorie beverages, and growing interest in natural and functional ingredients. The market is also influenced by changing lifestyles and demographics, as well as increasing interest in premium and specialty beverages.
The study suggests that the global functional water market is expected to reach USD 13.5 billion by 2033, indicating significant growth potential in the coming years.
Water: A 'Secure' Investment Prospect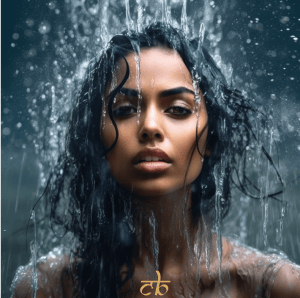 The indispensable nature of water, required not only for life but also by nations, businesses, and various sectors, presents a compelling investment case. The demand for clean, accessible water continues to escalate, whilst supply struggles to keep pace. This gap presents an opportunity for investors to contribute to the growth of water-focused companies.
With demand set to rise and supply predicted to dwindle, the economic growth potential in the water sector is promising. Innovation and technological advancements are needed to devise solutions and ensure more reliable access to water. Companies that position themselves advantageously in this market could witness substantial growth. In fact, it's estimated that market opportunities linked to water technologies could reach $1 trillion by 2025.
Hence, water could represent one of the most secure long-term investments, with potential for economic growth spanning decades. Its intrinsic value and increasing demand make it a more stable investment proposition than even gold, as per some experts. Investing in water embodies a fusion of financial and environmental stewardship, yielding returns while contributing to a more sustainable future.
Conclusion
As we've seen, water is not only essential to life, but it's also the lifeblood of numerous industries. It's a commodity that, despite being taken for granted, has an unmatched value and a vast potential for growth. This extraordinary resource presents a compelling opportunity to make a positive impact while also earning potentially lucrative returns on your investments.
Admiral Markets, with its robust, time-tested trading platform and extensive resources, provides an excellent ship to set sail on your journey into the waters of investment. Indeed, the pun is not lost on us. The voyage of water investing might feel daunting, with rough seas and strong currents, but the steady hand of Admiral Markets at the helm can guide you through.
The strength of water investments lies in their resilience and fundamental value. Water powers countless industries, making it a secure and potent investment in a world where its importance is only rising. Furthermore, investing in water isn't just about earning profits, it's about being part of a solution to one of the world's most pressing challenges.
As the saying goes, "The best time to plant a tree was 20 years ago. The second best time is now." The same holds for water investments. With the global water crisis unfolding, the need for innovative solutions, technology, and infrastructure in the water sector is urgent. And so, the potential for water-related investments to see significant returns is substantial.
By choosing to invest in water today, you're positioning yourself at the forefront of this burgeoning sector. You're seizing the opportunity to harness the potential of this essential commodity before it becomes a mainstream choice, increasing the likelihood of seeing substantial returns.
Embark on this journey and dive into the world of water investing. As you navigate these investment waters, you won't just be riding the wave of a transformative financial trend, you'll be contributing to a more sustainable and water-secure future for our planet.
FAQs
What is a commodity and how is water traded as a commodity?

A commodity is an economic good that can be bought, sold, or traded. As concerns about the future availability of water rise, it has now joined the list of other commodities traded on Wall Street, such as gold, silver, and oil.
What are the benefits of investing in water commodities through online brokers?

Investing in water as a commodity through online brokers allows easy deposits and withdrawals and increased exposure to one of the rapidly-rising markets. Also, investors can diversify their portfolios.
How do I choose a reputable online broker to invest in water commodities?

Admiral Markets and Libertex are some of the most trusted online brokers for water commodities as they have been around for several years and are regulated in many regions around the globe.
What are the different types of water investments available to retail investors?

Investors can gain exposure to the water market by investing in the stocks of companies that are dominant in the water or the agro-industry along with investing in water exchange-traded funds or ETFs.
How much money do I need to start investing in water commodities through online brokers?

The minimum deposit for investing via Admiral Markets and Libertex can range from somewhere between $50-$100.
What are the risks of investing in water commodities and how can I manage them?

Much like the commodity that it trades, the water market can be quite volatile at times and in order to keep your money safe, you need to invest only in those ETFs or stocks that have a reputation and have been around for a long time.
Are there any tax implications for investing in water commodities in India?

Investment in stocks and ETFs are taxed at 20% in India. Therefore, for every $100 profit, you need to pay $20 to the government.
Can I trade water commodities through mobile apps provided by online brokers?

Yes, Admiral Markets and Libertex provide web applications and mobile applications for investors to begin their trading journey.
How do I monitor my water commodity investments and track their performance?

Using the dashboard, one can easily track their investments in Admiral Markets and Libertex without any hassle.
What are some additional resources for learning about investing in water commodities and the water market?

To know more about investment in water, you can access websites like Investopedia and Money Made. On the other hand, at the end of the movie The Big Short, it was said that Michael Burry was focusing all of his trading on one commodity: water. So, to gather an investment mindset, the movie is suggested. One can also read, "Planet Water: Investing in the World's Most Valuable Resource" by Steve Hoffmann to know more.