Admiral Markets
Admiral Markets' Reputation and Security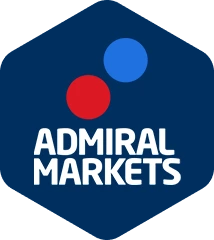 When it comes to buying Dogecoin, security is a top priority. Admiral Markets is a well-known and reputable broker that has been in the industry since 2001, and it is regulated by multiple financial authorities, including the Financial Conduct Authority (FCA) and the Cyprus Securities and Exchange Commission (CySEC).
The broker's security measures include negative balance protection, client asset segregation, and 256-bit SSL encryption for secure data transmission. Additionally, Admiral Markets holds its clients' funds in segregated accounts with top-tier banks, providing an added layer of security.
Competitive Spreads and Fees
Admiral Markets offers competitive spreads and fees that are attractive for traders looking to buy Dogecoin. The broker's minimum deposit for a standard account is $100, and the spread for Dogecoin trading starts from just 0.3 pips, which is highly competitive compared to other brokers.
Additionally, Admiral Markets does not charge any commissions for cryptocurrency trading, making it an even more affordable option for traders.
Trading Platforms and Tools
Admiral Markets offers a range of trading platforms and tools that make it easy for traders to buy Dogecoin. The broker's MetaTrader 5 platform is highly advanced and intuitive, allowing traders to analyze markets, place orders, and manage positions with ease.
The platform also provides access to a range of tools and indicators, including automated trading and copy trading capabilities. These tools can help traders make more informed trading decisions and potentially increase their profits.
Furthermore, Admiral Markets provides a range of educational resources, including webinars, articles, and tutorials, that can help traders improve their knowledge and skills in cryptocurrency trading.
In summary, Admiral Markets' reputation and security, competitive spreads and fees, and range of trading platforms and tools make it a great option for traders looking to buy Dogecoin.
Libertex
Libertex allows for Dogecoin trades via MetaTrader4. Whilst originally launched as a forex and stock broker, Libertex has quickly rose through the ranks among the top exchanges for crypto trades, due to the unmatched user-friendliness of its platform, quicly allowing even the most novice users to catch up with even the most seasoned investors, thus levelling the playing field. Moreoer, Libertex further ncentivises traders with recurring giveaways, special prizes and competitions, such as their famous draw allowing new and existing customers alike to win up to 500 BTC. 
AvaTrade: Your Trusted Platform for Dogecoin Investments
AvaTrade, a recognised entity in the finance domain, offers customised solutions for those keen on diving into the cryptocurrency arena. The highlight among its robust offerings? A bonus scheme tailored to both newcomers and seasoned investors. Interested in maximising your Dogecoin ventures with exclusive benefits? Let's delve deeper!
AvaTrade's Incentive Programme: Enhancing Your Investment Power
While there's no bonus without deposit at the moment, AvaTrade's deposit-driven incentive ensures your initial investment is bolstered. An initial sum of 200 USD, or its counterpart in ZAR, GBP, EUR, or AUD, offers you a promising beginning. It's simple: as you elevate your deposit, your bonus scales up too, a lucrative proposition for potential Dogecoin investments. Here's a snapshot of the bonus tiers:
Deposit 200 USD and earn a 40 USD bonus.
For 300 USD, receive an additional 60 USD.
A 500 USD deposit? That translates to a 100 USD bonus.
Step it up with a 1000 USD deposit and secure a robust 200 USD bonus.
Criteria and Stipulations
This bonus feature is exclusive to traders with authenticated real accounts. If you're still on a demo version, perhaps it's time to transition. While these bonuses are crafted to elevate your trading journey, they aren't immediately available for withdrawal. Meeting a particular trade volume is essential for cashing out.
Availing the AvaTrade Incentives
Two primary bonuses are at your disposal:
AvaTrade Introductory Bonus: Newly onboarded to AvaTrade? Once your account is active and credited, an introductory bonus is yours to claim. It's versatile, ideal for FX, CFD transactions, and Dogecoin acquisitions. A word of caution: ensure you hit the required trading volume within six months, or you might risk losing the bonus. Another point to note: bonuses may not be valid for deposits through Neteller or Skrill.
In essence, whether you're a dedicated Dogecoin aficionado or a broad-spectrum crypto trader, AvaTrade offers more than just a trading hub. It's a launchpad to augment your investment prowess from the outset. Ready to emBARK?
How to Buy Dogecoin in India and Abroad in September 2023
Here are the simple steps to buy Dogecoin in India and abroad:
Choose a Dogecoin Broker
Create a crypto account on the platform
Deposit the funds
Search for Dogecoin
Buy Dogecoin
Buy Dogecoin with Paytm
Indian cryptocurrency investors can buy Dogecoin with Paytm. All they need to do is connect Paytm online wallets to the platform, accept Bitcoin and then swap it for Dogecoin with sellers on the platform.
The advantage of this process is that it is familiar. However, it can take time because you must first buy Bitcoin and swap it for Dogecoin.
Buy Dogecoin with PayPal
You can buy Dogecoin with Paypal in India through Binance but that is only possible on Binance P2P – Binance's Peer-to-Peer cryptocurrency exchange. You must first connect to Binance P2P, buy Bitcoin from a seller using Paypal and then swap the Bitcoin for Dogecoin on the official platform at 0.1%.
While this process is simple, it is cumbersome. Binance doesn't yet support INR deposits.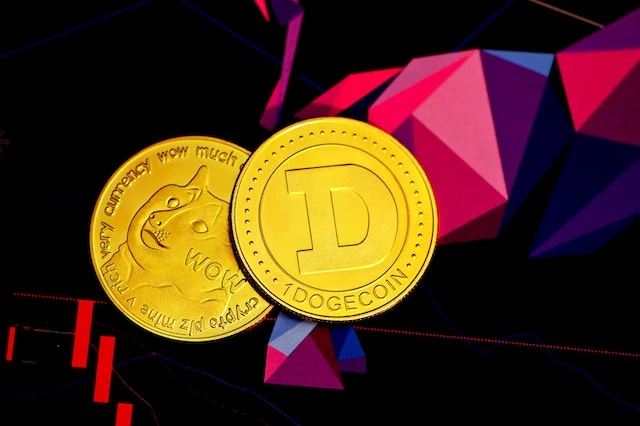 Step by Step Tutorial to Buy Dogecoin
Here are the steps to buy Dogecoin on a cryptocurrency exchange:
Choose a Dogecoin Broker
First, you must choose a Dogecoin broker. The list we have provided has been well researched. Select one after examining other intrinsic factors such as security and fiat support.
Create a Crypto Account on the Platform
The second step is creating a crypto account on the platform. Go to the official website. For this blog, we suggest Binance. And enter your details. You'll be asked to provide your KYC details as the regulatory bodies require.
Deposit Your Funds
Deposit the funds using fiat. Since INR is unavailable, we suggest using USD deposits. Select the credit or debit card option and enter the USD amount you want to deposit. An equivalent amount of INR would be deducted from your account to top up your crypto portfolio.
Search for Dogecoin
Click on the "Buy Crypto" button. In the dialogue box, enter the amount of EUR you want to exchange,
Buy Dogecoin
Double check your entries and then press on pay. An equivalent amount of Doge will be deposited in your account
Tutorial: How to Buy Dogecoin on Admiral Markets in India
Embarking on your cryptocurrency journey and keen to purchase Dogecoin in India? Your first step is to establish a brokerage account. Fortunately, setting up such an account is a straightforward task, often culminating in just a few minutes. This tutorial offers a step-by-step guide on getting started with Admiral Markets, a leading brokerage in India.
Step 1: Visit Admiral Markets' Website
Kick-start by navigating to the Admiral Markets' official website. On the homepage, identify and click the 'Sign Up' icon. This directs you to the registration page where initial personal and contact details will be requested.
A subsequent form will pop up, prompting entries like country of residence, email, phone number, and a robust password. After scrutinizing the terms and conditions, tick the consent checkbox, being especially mindful of their Privacy Policy. Once satisfied, click the 'Sign Up' icon and transition to the next step.
Step 2: Provide Detailed Personal Information
This segment involves inputting more exhaustive personal details. Admiral Markets, being a certified and compliant platform, mandates data like your full name, date of birth, and communication details. Verification of identity, using documents such as the PAN card or Aadhaar card, is indispensable.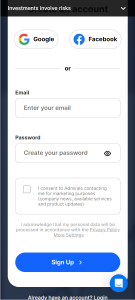 Step 3: Choose the Apt Account Type Admiral Markets prides itself on accommodating varied clients, presenting an array of account types. Novices might find demo accounts advantageous for garnering practical exposure, whereas veterans can dive straight into live accounts. Select an account tailored to your expertise and aspirations, and then click 'Open Account'.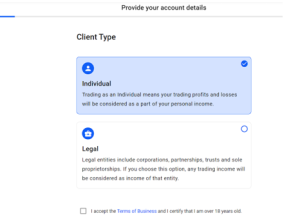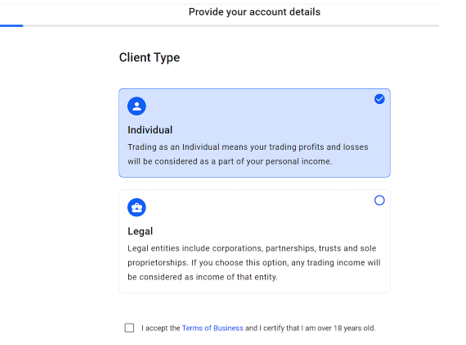 Step 4: Proceed with Identity Verification
Given its regulated status, Admiral Markets rigorously adheres to regional standards. This necessitates an obligatory identity authentication process prior to trading privileges being granted. Submission of the aforementioned identification documents is pivotal. Upon validation by Admiral Markets, a confirmation email will be relayed, paving the way to the next phase.
Step 5: Deposit Funds into Your Account
Post receipt of the confirmation email, the ensuing move is to infuse capital into your account. A myriad of payment channels are accessible via Admiral Markets, ranging from credit/debit cards and bank transfers to e-Wallets. Opt for a convenient mode, input the desired deposit sum, and anticipate a swift reflection of these funds in your trading account.
Step 6: Commence an Order to Purchase Dogecoin
With your account operational, you're equipped to buy and trade Dogecoin, as well as explore other crypto avenues. If broadening your investment horizon resonates with you, Admiral Markets showcases an extensive roster of assets, inclusive of equities, for your perusal.
Different Payment Methods for Buying Dogecoin
As the digital landscape evolves, so too do the ways we transact and trade. Buying Dogecoin today isn't restricted to just one method but spans a spectrum of platforms and payment gateways. From traditional credit and debit cards, online banking, and digital wallets like Paytm, to the more advanced peer-to-peer exchanges, the avenues are diverse. Each method comes with its nuances — while credit cards offer instant transactions, bank transfers may provide added security. Digital wallets, popular in many regions, merge convenience with speed. It's crucial to align with a method that suits your preferences, regional availabilities, and the levels of fees or commissions associated. As you step into the world of Dogecoin, ensure your chosen route is both efficient and secure for a seamless investment journey.
Buying Dogecoin with PayPal
One of the more modern methods to enter the Dogecoin market is via PayPal, a globally renowned digital payment platform. Here's a glimpse into this process of buying Dogecoin with PayPal:
Convenience at Its Best: With PayPal's widespread acceptance and user-friendly interface, purchasing Dogecoin becomes a breeze. No need for extensive banking details — a simple login suffices.
Steps to Purchase:
a. Ensure your PayPal account holds sufficient balance or is linked to a bank account/credit card.
b. Head over to a cryptocurrency exchange that supports PayPal transactions, such as Libertex.
c. Navigate to the deposit section and select PayPal as your preferred mode.
d. Once the funds are deposited, search for Dogecoin and proceed to buy the desired amount.
e. Ensure that the acquired Dogecoin reflects in your exchange wallet or is transferred to a personal crypto wallet.
Safety Features: PayPal's buyer protection offers an added layer of security. Though primarily designed for goods and services, it's worth noting the terms in relation to cryptocurrency transactions.
Things to Keep in Mind: While PayPal offers ease, it's essential to be cautious of potential fees or currency conversion costs. Ensure you're well-acquainted with these before making a purchase.
In essence, PayPal emerges as a bridge between traditional banking and the digital crypto realm. For those familiar with its interface, diving into Dogecoin investments becomes a straightforward affair.
How to Buy Dogecoin with Paytm
As one of the premier digital payment services in India, Paytm has carved a niche in the realm of cryptocurrency dealings, particularly with Dogecoin. Venturing into Dogecoin via Paytm combines ease, efficiency, and the assurance of a reputed platform. Here's a concise walkthrough to facilitate you to buy Dogecoin with Paytm:
Account Readiness: Ascertain that your Paytm account is active, verified, and sufficiently funded for the intended purchase.
Selecting a Compatible Exchange: Identify a cryptocurrency platform that integrates seamlessly with Paytm for transactions. Given Paytm's extensive reach in India, numerous exchanges now offer this compatibility.
Linking with Paytm: Post account creation and verification on the selected exchange, proceed to the payment methods and earmark Paytm as your chosen mode.
Fund Transfers: Navigate to the 'Funds' or 'Wallet' section of the exchange. Opt for the Paytm deposit method, input the desired amount, and follow the displayed instructions or scan the provided QR code via your Paytm application.
Finalising Your Dogecoin Purchase: With your deposit reflected on the exchange, search for Dogecoin, set the purchase amount, and confirm to finalise the acquisition.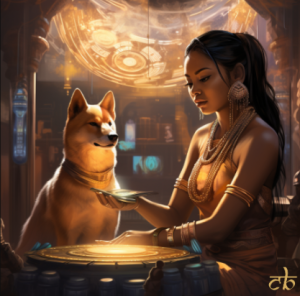 Guidelines to Selecting Your Ideal Dogecoin Exchange
Venturing into the expansive world of Dogecoin trading requires prudence, and an essential step involves selecting the most suitable exchange for your needs. Here's a curated checklist to guide your decision-making process:
1. Determine Your Trading Persona
Initiate by introspection: "What type of Dogecoin trader am I?" Is your perspective long-haul, viewing Dogecoin as a lasting venture? Alternatively, do you thrive on the dynamism of daily trading, capitalizing on Dogecoin's intrinsic volatility for optimal gains?
Notably, crypto platforms span the spectrum from intricate to user-friendly. While sophisticated platforms might pose a challenge for novices, they abound in technical tools to aid market analysis. Conversely, streamlined platforms prioritise swift transactions. Your choice should mirror your proficiency and goals.
2. Assess Exchange Reputation
Prioritise the authenticity and track record of the Dogecoin exchange. Delve into its development narrative and past incidents – has it been compromised previously? Ascertain the robustness of its security protocols to safeguard your digital wealth. Additionally, gauge the liquidity levels of these centralized platforms.
3. Scrutinize Customer Service Quality
Platforms like Trustpilot offer invaluable insights into the customer service standards of Dogecoin exchanges. Explore the range of communication channels they offer – from telephonic support to live chat. Such research illuminates how the platform responds during exigencies.
4. Understand the Registration Dynamics
Grasping the onboarding process is paramount. Exercise caution: if an exchange promises services sans essential user data, it might be prudent to explore alternatives.
5. Explore Paper Trading Opportunities
Paper trading embodies the essence of demo trading. Some exchanges proffer the chance to set up a demo account, enabling you to practice trading maneuvers in a risk-free environment.
6. Prioritise Regulated Brokers
Given India's tentative stance on cryptocurrencies, it's pivotal to align with a regulated broker. Renowned players, like Libertex, for instance, boast accreditations from several global entities, inclusive of VASP, FinCEN, and more.
In conclusion, while the realm of Dogecoin trading is exciting, ensuring a seamless experience mandates partnering with an exchange that resonates with your aspirations and risk appetite.
Ensuring the Credibility of Our Recommended Brokers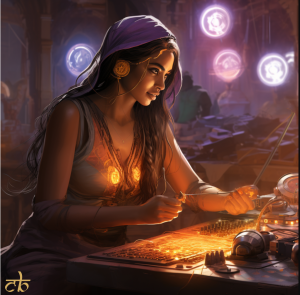 Navigating the crypto landscape necessitates trust and clarity. To ensure our audience benefits from the highest standards of reliability, our seasoned financial and tech connoisseurs have instituted a meticulous vetting process for brokers we endorse. Here's an in-depth overview of our comprehensive verification procedure:
1. Comprehensive Account Analysis
Our professionals don't merely rely on hearsay. They engage in a hands-on approach, immersing themselves in the user experience. They've actively created and tested accounts on each recommended platform, garnering insights into sign-up requisites, user-friendliness, and withdrawal timeframes.
2. Delving into Investment Portfolios
An essential marker of a platform's credibility is its range of offerings. Our team scrutinized the variety of cryptocurrencies available for trade, ensuring a blend of established names and emerging stars. We also evaluated the richness of investment portfolios crafted on these platforms, assessing diversification potential.
3. Dissecting Terms and Conditions
The world of crypto trading operates within a framework of rules. Our financial and legal mavens minutely perused the terms and conditions set forth by each broker. Their goal? To validate alignment with India's evolving crypto regulatory schema and ensure maximum protection for investors.
4. Valuing Your Voice
Cryptocurrency's dynamic nature means it's perpetually evolving, often in response to feedback from its vast user base. Recognizing the invaluable insights this community provides, we perpetually update our recommendations, factoring in the collective wisdom and experiences shared by users like you.
5. Vigilance and Continued Research
Cryptocurrency investments are significant undertakings that mandate rigorous scrutiny. Therefore, we urge potential investors to leverage reviews from multiple trusted sources. By synthesizing diverse perspectives, one can arrive at a nuanced understanding of a platform's strengths and potential pitfalls. This methodical approach is pivotal in determining the most appropriate cryptocurrency trading platforms for one's specific needs and aspirations.
In sum, while the crypto realm brims with promise, it's also fraught with complexities. Our mission is to simplify your journey, guiding you towards platforms that prioritize transparency, security, and user-centricity.
Essentials for Initiating a Digital Currency Trading Profile
To embark on the journey of digital currency trading, a slew of essentials is required:
Key Personal Data
The prospective trader would typically furnish:
Full official name
Birth date
Address of residence
Contact number
Electronic mail details
Most digital currency platforms initiate a process mirroring the traditional banking's KYC (Know Your Customer) approach. This often necessitates sharing identity proofs like a passport or driving licence, along with address verifications like utility bills or financial statements.
Initial Capital Requirement
The capital required to commence trading varies among platforms and the nature of the account. Whilst some platforms have no mandate, others might stipulate an initial deposit of £10, £50, or even upwards of £100. Your chosen mode of payment might also influence this amount.
Furthermore, certain platforms might necessitate maintaining a threshold balance, below which penalties or dormancy fees might apply. The magnitude of such fees varies, sometimes ranging from a few pounds to considerable sums annually.
Varieties of Digital Currency Platforms
Centralised Platforms: Centralised platforms, or CEXs, are steered by a singular entity. Registration is often a prerequisite for trading on such platforms. Their appeal lies in the extensive array of trading options, heightened liquidity, and sophisticated trading tools.
Among their prime advantages is the security fortress they build. They typically implement top-tier protective measures and frequently boast customer assistance for issues like transactional hiccups.
Decentralised Platforms: Also known as DEXs, these operate on a decentralised network sans a governing body. Through blockchain, they facilitate trades directly between parties. For those prioritising anonymity, security, and the ethos of decentralisation, DEXs are quite appealing.
Their inherent structure ensures heightened security and discretion. Not having central control, DEXs are potentially less prone to large-scale breaches and typically sidestep KYC norms, allowing more private transactions.
Hybrid Platforms: Marrying the features of both CEXs and DEXs, hybrid platforms bring forth the security and discretion of decentralised networks while retaining the liquidity and user experience associated with centralised ones. Though they employ a decentralised backbone, there's often a singular entity overseeing certain critical operations, guaranteeing efficient and dependable transactions.
Vital Aspects to Ponder When Setting Up a Digital Currency Trading Profile
As one paves the path into digital currency trading, discernment in platform choice is pivotal. Essential considerations include:
Security: Opt for platforms boasting sterling security mechanisms like dual authentication, offline capital safekeeping, and periodic safety assessments.
Cost Implications: Evaluate the fee framework across platforms, as these could notably influence trading expenses and resultant gains.
Supported Digital Assets: Ensure the platform caters to your preferred digital currencies and any traditional currencies you might employ.
Wallet Calibre: Reputed platforms generally offer proprietary wallets. Opt for platforms with resilient wallet safeguards. The standing of the wallet provider and their security lineage are crucial.
Safekeeping Mechanisms: It's wise to opt for platforms that ensure adept custodial solutions, including offline storage, multi-signature protocols, and insurance for potential capital losses.
CEXs vs DEXs: While CEXs typically have robust security mechanisms due to governmental oversight, episodes like the 2022 FTX debacle underscore potential pitfalls. Conversely, DEXs, although offering enhanced security, can be susceptible owing to their intricate underlying systems.
Therefore, regardless of platform type, adopting sound security measures, like utilising offline storage and periodic account checks, fortifies one against unforeseen adversities.
The Pros and Cons of Investing in Dogecoin
Pros of Dogecoin
Potential Upside: Dogecoin has demonstrated the capacity for significant gains, although it's crucial to underline that such returns are unpredictable and never assured.
Ease of Mining: In comparison to Bitcoin, mining Dogecoin is less resource-intensive. The computational tasks to generate new coins are simpler and more cost-effective. Consequently, the production rate of new dogecoins exceeds that of bitcoins. However, this accessibility can be a double-edged blade. An overproduction without a matching investor appetite may depress dogecoin's market value.
Cons of Dogecoin
Lack of Tangible Returns: Dogecoin does not offer dividends or yield akin to traditional assets like stocks or bonds. Its value is not anchored to any tangible asset, implying that if public sentiment wanes, the valuation could theoretically plummet to naught.
Unlimited Supply: As there's no cap on the volume of dogecoins that can be mined, its value elevation hinges on investor acquisitions outpacing miner outputs.
Vulnerability to Hype: Dogecoin's valuation is susceptible to abrupt shifts spurred by external events. For instance, in mid-2021, its value soared following speculations tied to Elon Musk's Saturday Night Live appearance. However, post his portrayal of the coin as "a hustle", its value witnessed a near 30% contraction.
Investing in cryptocurrencies, including Dogecoin, is complex and comes with a high risk of losing money. Investors should consider their risk appetite and conduct thorough research before making decisions.
How to Store Dogecoin Safely
Storing your Dogecoin holdings inside the crypto wallets of the Dogecoin brokers we have listed is a good option. Libertex and Admiral Markets will provide ample security to your crypto portfolios. Furthermore, your holdings on the platform are also insured but if you want more security, you can explore bitcoin wallets. Select among the cold wallets to store your Dogecoins offline or Hot wallets for online storage.
Dogecoin Price
Dogecoin is a memecoin whose value solely depends on the overall sentiment about the crypto market. Since this crypto has no use cases (outside of Tesla merch), it has performed with extreme volatility in the past. That is, it has closely followed the price action of Bitcoin.
Dogecoin opened 2022 at $0.17 before retracing marginally and bouncing to find resistance at $0.20. It then slowly followed a downtrend where $0.17 became its resistance. However, after the Terra-triggered crypto crash, Dogecoin's price slumped below $0.1. At the time of writing, this token is accumulating in the $0.060 range.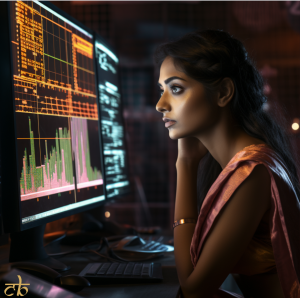 Dogecoin Bull Runs
Dogecoin went through the biggest bull run in early 2021 when the value of DOGE rose by a massive 8600% between January to May. Elon Musk, Snoop Dogg, and Mark Cuban's social media mention led to this cryptos uptick.
The second bull run happened again that year in July, and the Dogecoin Price had a 200% uptick, going from $0.17 to $0.34 before retrace. The bounce afterward led to another bull run in September, and the value of DOGE went from $0.19 to $0.28.
Dogecoin Bear Markets
2022 marked the end of any bull run for Dogecoin. It has been following a downward trend ever since entering this year. The retrace was aggravated further when Bitcoin dropped below the $19k level in June. During that time, Dogecoin hit the 2022 bear bottom of $0.053.
Elon Musk and Dogecoin: The Crypto Love Affair
Elon Musk has been attributed as the primary growth factor for Dogecoin. He first commented on Dogecoin in 2019, tweeting
"Dogecoin might be fav cryptocurrency."
But it was his words in 2021 when he said that he was working with Dogecoin developers to improve the network that led to the first mega bull run of this memecoin. It led to speculations that Elon Musk is the elusive Dogecoin whale that holds 28% of the total digital currency.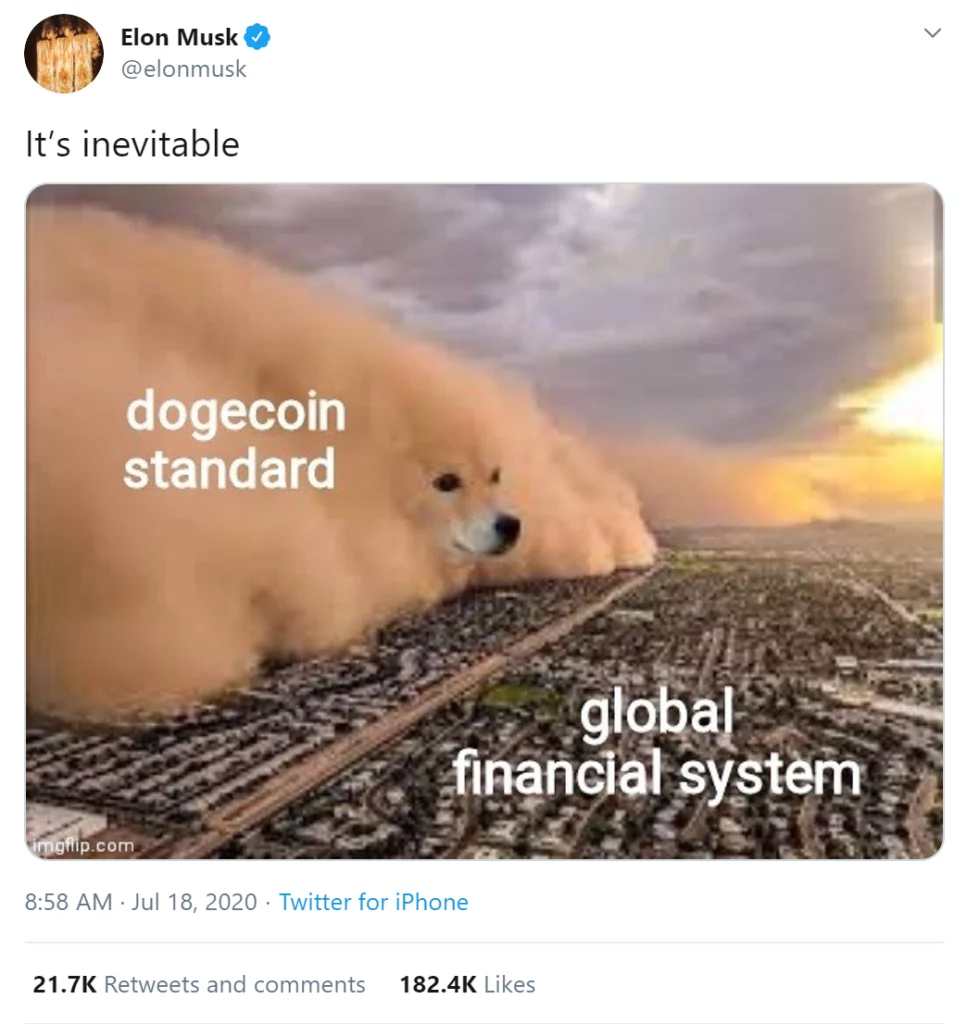 However, Elon Musk again mentioned Dogecoin in his SNL appearance, which had the opposite effect on the world's first memecoin – it plunged its price. Then 2022 came, and Elon Musk declared that Tesla would accept Dogecoin as a payment for the newest models.
The relationship between Elon Musk and Dogecoin has been a combination of inspiration, respect, and, sometimes, disdain. However, when the wider crypto market plummeted, wiping out $2 billion worth of cryptos from the market, Elon Musk stood by his favourite cryptocurrency. He urged traders not to sell their cryptocurrencies.
However, the latest developments have not been positive, as Elon is being sued for $258 billion for running a pyramid scheme to support Dogecoin. Those who have filed the case claim that SpaceX and the Boring Company have deliberately pushed the price of Dogecoin up by 36,000% for two years before letting it crash.
However, it would be better for investors to do their own research rather than get swept away by Elon's words.