Libertex BTC Draw
Libertex regularly arranges special competitions for new sign-ups, such as a draw which allows new and existing users to earn up to 500 BTC. Whilst normally only a $10 deposit or equivalent is needed to start trading, you would need to deposit $50 or equivalent for the draw. Check here to see when the next draw will take place.

What Is Libertex?
Libertex is an online trading platform that, as part of the Libertex group, has been imbued with over 25 years of trading experience. It is used by Indication Investments limited to provide online broker offerings to beginner and advanced-level traders. Investors have a wide array of trading options on these platforms. They include tradable CFDs, FOREX, ETFs, Stocks, Metals, Indices, Agriculture, Oil and Gas, and more recently, it has also added cryptocurrencies to its rising list of tradable assets.
Started by Indications Investments Limited in Cyprus, Libertex is operated by Forex Club International LLC, a company with registration in St Vincent and Grenadines. While the platform has a robust set of utilities, now all regions are bestowed access to it. Libertex identifies countries like the United States, and Japan as non-cooperative jurisdictions, which means users from these regions will be geo-restricted from accessing the platform. Users from this regions however could use a VPN service to mask their IP and sign up anyway. Furthermore, the original website, Libertex.com, is only accessible in selected countries, which means in our review, we will focus on Libertex.org. It is a small-yet robust platform that, although it provides limited facilities, has enough features to give many modern trading platforms a run for their money.
Libertex is also one of the few platforms allowing people to trade stocks at a 0% commission. The platform's welcome bonus and other features have also gained renown over the past year in addition to crypto mining, an in-app crypto mining software by forest that promises real Bitcoin every 4 hours.
How Does Libertex Work?
Libertex is an online trading platform that has a traditional approach to trading. According to the official website, the platform's underlying trading principle is that the trade result will change proportionally to the value of the underlying asset being traded.
During the account creation process, you will get two options to choose from. One would include the creation of a standard Libertex account that will give you access to all the standard features, and another would be the Libertex portfolio, which allows traders to create a sustainable dividend payout portfolio with Libertex. Users can start to trade on the platform if they have at least $50 in their accounts. However, we recommend that as soon as a user account is created, beginner-level users must switch to a Libertex demo account to gain practice in trading on the platform. With the Libertex portfolio, users will also get access to trading signals of multiple assets available on the platform – including those specific to metaverse projects.
Libertex vs. Other Crypto Trading Platforms – Comparison
Libertex differs from other crypto-centric trading platforms because it has the same homogeneous approach to trading with cryptocurrency assets. Not only can the users buy and sell cryptos, but they can also trade in crypto CFDs for specific assets.
Furthermore, Libertex has a leg-up on most cryptocurrency exchanges because of its addition to crypto mining.
With the official Libertex app, users can mine real Bitcoin every four hours. The app doesn't take any additional mining charges and offers guaranteed security and expert assistance. Let us now compare Libertex with other popular cryptocurrency exchanges.

Libertex vs. Binance
Binance is the biggest cryptocurrency exchange in the world. It supports 650 cryptocurrencies and provides robust trading tools to make informed decisions in the crypto market. Libertex also features various key indicators. With Libertex, users can switch between lines, areas, or candles to glance at the crypto's price action.
Binance offers many of the same utilities. However, since it is a crypto-exclusive exchange, the technical tools provided are more proficient, but Libertex makes up for it with its multiple trading options.
LIbertex vs Crypto.com
Like Binance, Crypto.com is also a crypto-exclusive trading platform. It boasts the same utilities as Binance. However, the number of cryptocurrencies it supports is less. In that regard, it is similar to LIbertex. Libertex.org, the platform available for people outside the unrestricted countries, keeps nearly 100 cryptocurrencies, including Ethereum, XRP, Litecoin, Bitcoin Cash, Bitcoin Gold, Ethereum Classic, Shiba Inu (SHIB) and more.
Libertex – A Brief History
Libertex group originated in 1997 and has since become one of the world's biggest online trading platforms. It offers tradable CFDs with underlying assets as commodities, cryptocurrencies, Forex, ETFs, etc. Additionally, the platform has also provided commission-free investments in real stocks.
Libertex serves nearly 3 million clients worldwide and is home to more than 250 tradable assets – including cryptocurrencies. That said, the true count of assets is yet to be discovered since the arrival of cryptocurrencies has made it certain that as more utility-based altcoins arrive, Libertex may add support for them. Libertex is active in over 120 countries at the moment. However, most of its features are available in a limited number of countries.
Regions outside these nations such as the US or India, must access the website using libertex.org.
Due to the sheer number of tradable assets on the platform, Libertex remains one of the best trading exchanges on the planet. However, it does not offer standard spot trading and margin trading facilities for cryptocurrency exchanges – but we believe that with time, it will add those features.
Part of the reason why experts believe that is because Libertex has won more than 40 international awards over the course of its operations. In 2022 alone, Libertex was awarded Most Trusted Broker and Best Crypto CFDs Broker Awards.
Libertex – Fee Structure
Libertex follows a standard approach to fees. That is, it has a simple approach that involves spreads and commissions. The platform is free to join, and users do not need to pay any monthly trading charge. They are only charged in commissions and spreads, albeit some of the lowest among all brokers. The spread starts from 0.00003, and the commission starts from 0%.
Additionally, there are no fees levied on deposits. For withdrawals, however, Libertex charges for methods other than PayPal or Skrill.
However, there is a form of monthly charge that Liberty only levies if the investors have not used the account in the last 180 days. In such a case, a monthly charge is considered a price to be paid for maintaining the platform.
In the case of trading financial instruments, Libertex charges two types of fees and commissions.
The Transaction fee
Rollover Fee
Transaction Fee
It is the fee charged when an investor opens a trade. The transaction fee size depends upon the financial instrument's nature.
Rollover Fee
At the end of the trading day, at GMT 9 PM, Libertex charges a rollover fee as an interest. It can be either positive or negative. This rollover is charged for forex trading pairs and CFD instruments.
For the FX pair, the rollover is three times bigger than normal on Wednesday and Thursday
For CFD instruments, the rollover is triple when an investor rolls over a position from Friday to Monday.
Crypto-Free Trading
Libertex has taken a more inclusive approach to crypto trading. Ever since cryptocurrencies became popular on the platform, the brokerage fee has been reduced by 50%. The brokerage fee is the exchange fee that Libertex takes for facilitating crypto trading, and the amount differs depending upon the crypto asset traded.
Libertex – UI and User-Friendliness Overview
We found the Libertex user experience to be extremely intuitive. Not only logging on to the platform is easy, since one can easily associate their Google accounts and in, but every element is neatly placed, making it easy to interact with the features.
Right after any user logs in, they are sent to a dashboard which shows trading charts for popular assets on the platform. Investors looking for a no-hassle approach can click on the buy button and open their trade positions for those assets. Switching with trading instruments is easy. A standard dropdown menu is there, but those in a hurry can quickly select any option under the instruments tab and look at the price action of popular cryptocurrencies. We also found the technical indicator to be quite informative. While minimalistic, it does have a lot of information through which even a novice trader can start trading assets from the platform. Above the technical indicators, there is a trading signal button informing users about signal profitability and signal probability.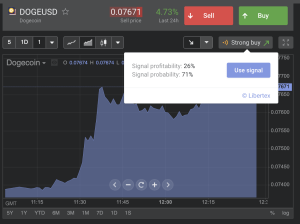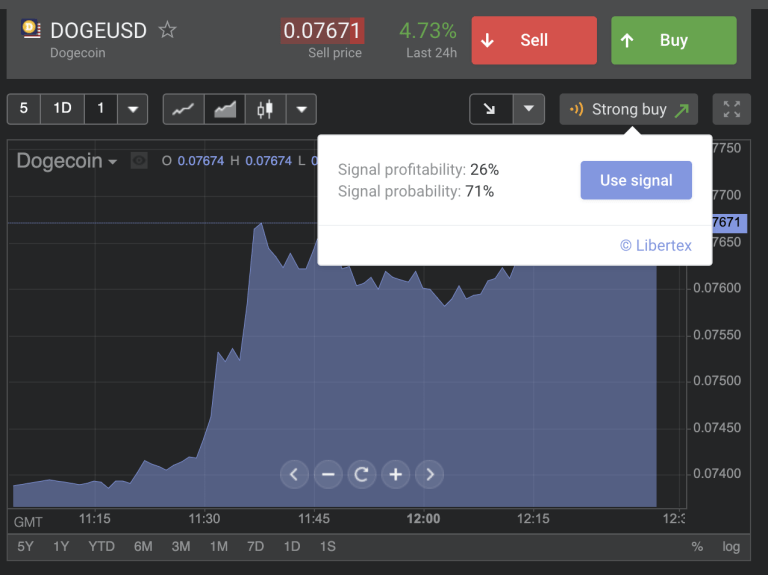 Here is the example for Dogecoin, a popular memecoin showing strong buy signals that people can leverage to automate their trading decisions. Advanced traders who want a more nuanced look at the trading charts can choose between eight technical indicators, including MACD, RSI, Stoch, bulls, bears, and Moving Averages. However, it would have been more helpful if these technical indicators could be put on the charts since people have to look at them in a tabular format below the graph.
When it comes to depositing funds, the process has been much simpler. Users only need to update their details and use the available fiat methods on the platform to fund their accounts. However, we must say that we barely touch the tip of the iceberg since most of the large features are locked behind loyalty statuses.
There are four tiers of loyalties, starting with Silver. Investors will unlock Gold by depositing $500, platinum by depositing $5,000, and diamond and exclusive memberships can be opened by depositing $50,000 and $500k, respectively. Once traders gain entire membership, facilities, including individual trading conditions and exclusive trading conditions, will become available to them. We also found the search utility of this platform to be quite efficient. Investors can filter their searches using several metrics, such as:
Minimum distance for placing an order
Minimum profit/loss limit
Maximum deal amount
Stop-Out
Trading Volume
Also, traders looking to keep up with the news of cryptocurrency trading can also use the platform to check out news and signals and measure the nerves of markets to make an informed decision.
Overall, we found the user interface of this platform to be friendly and complete. Support is also available for those who find it difficult to navigate some of the more nuanced facilities available on this platform.
What Can I Trade on Libertex?
There are 322 tradable assets available on Libertex. Here is a brief overview of those assets.
Cryptocurrencies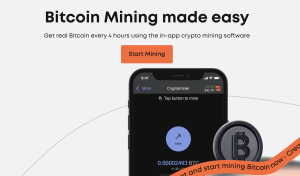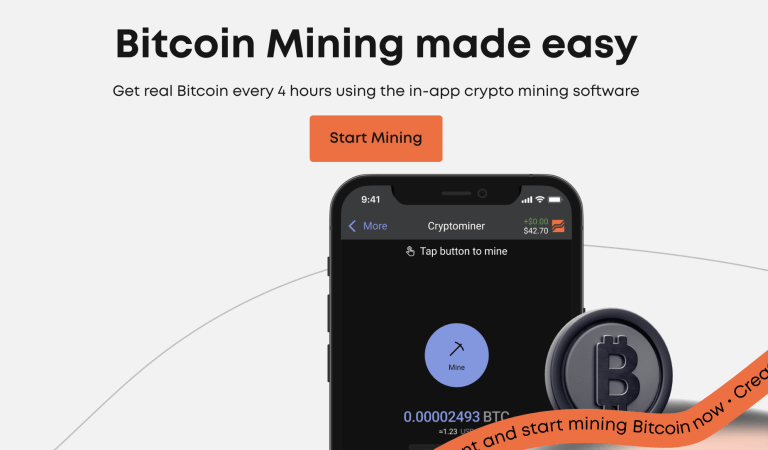 Cryptocurrencies only recently became available on Libertex, with Bitcoin and Litecoin becoming the first cryptocurrencies to be traded on the platform. With time, Libertex has added support to more coins, such as Bitcoin Gold, Bitcoin Cash, Ethereum Classic, IOTA, NEO, QTUM, Monero, Cardano, and Ethereum Classic.
The platform also offers multiple trading pairs, such as EOS/ETH, NEO/ETH, and QTUM/ETH. Memecoins such as Dogecoin and Shiba Inu and play-to-earn cryptos such as Axie Infinity are also available for trading on Binance.
When it comes to cryptocurrency trading, Libertex does not offer standard features such as margin trading on leverage of trading for perpetual future contracts. There are only two options available here. Simple trading, or CFD. Libertex added support for Bitcoin and Bitcoin CFD trading and then continued to add more tokens to the list. With the addition of CFDs, users can not only make gains from the price appreciation but also the price depreciation of cryptocurrencies – which has proven to be quite profitable in the current bear market.
Stocks
Libertex offers upwards of 50 stock CFDs to choose from. All of them have the highest volatility and are akin to gold mines for advanced traders. Stocks are divided into 12 categories starting with medical cannabis, automobile industries, and consumer goods and ending with telecommunications, technologies, and materials.
Forex
Users will also find one of the most popular forex trading pairs on Libertex. Investors can choose between majors, crosses, exotic, and Russian doubles.
Metals
Metals are also available as tradable assets on Libertex. In addition, to make it easy for users to buy and sell metals, Libertex also features special news section dedicated to metal prices to help users make informed investment decisions.
Indices
Investors wanting to play big can start investing in indices. Libertex has listed all the most popular stock indices from America, Europe, and Asian markets, starting with US SP500 to Israeli TA35.
Agriculture
Libertex also offers agriculture CFDs – which is especially good for those who don't want to take many risks and engage with a less volatile market while making safe and regular returns. Corn, wheat, Soybean, Coffee, Sugar, and Cocoa are just some of the agriculture CFDs available on the platform.
Oil and Gas
Oil and gas prices are extremely volatile assets right now, which makes Libertex the perfect place to invest in these assets. The platform offers forecasts and news articles to help investors predict the price movements of these resources. Furthermore, users can start investing in Oil and gas with just $5.
ETFs
Libertex also offers a modest selection of ETFs to invest in. In addition to seven types of iShares ETFs, Libertex also offers SPDR S&P 500 and Vanguard FTSE Europe.
How Can I Sign Up for Libertex?
Libertex is a simple-to-use crypto trading platform that makes it easy to buy and sell cryptocurrencies and other assets. Read to know the steps involved in the sign-up procedure.
Navigating to the Official Account
The first step is to navigate to the official platform. Libertex.com is not available to the users of the countries mentioned above. Searching through it will direct users to libertex.org. It is an equally robust platform, but the interface and the options available are somewhat limited. To be sure that you are directed to the sign-up platform for your region, access Libertex through this link. 
Click on the Register Button
Click on the register button on the official platform and enter your username, password, and telephone number. However, if you need another way to "register" an account, you can click on the "buy" button beside any of the cryptocurrencies listed. You will be taken to the sign-up page. Click on the sign-up button, and you will get two options before you. One is to open a Libertex account, and another is to open a Libertex portfolio.
With a Libertex account, you will have access to all the standard features. However, with the Libertex portfolio, you will get access to the following features:
No fee for the deal
No swaps
No Stop Out
Monthly and quarterly dividends
Select one, enter the details, and your account will be created.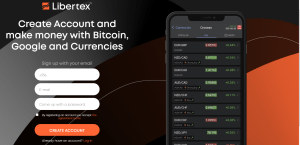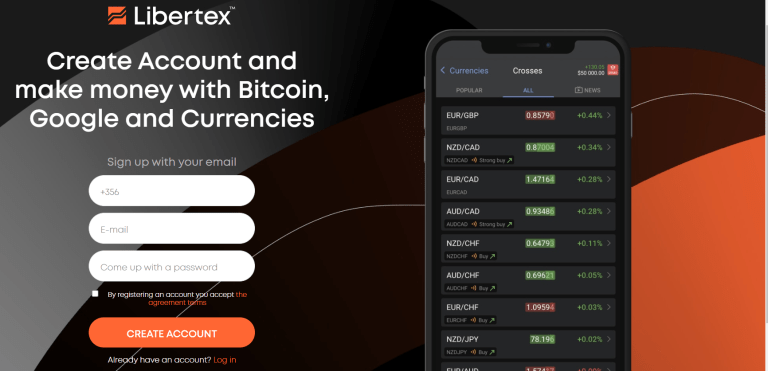 Deposit Funds
Click on the deposit button at the top of the page. You will then be asked to enter your details. Providing all the personal details at this stage, doing so will open a dialogue box where users will need to enter the amount to be deposited.
Start Trading
Once your account has been topped up with the deposit, start trading by selecting any cryptocurrency or other assets available on the platform. Beginner-level traders can also switch their accounts to the demo version to engage with paper trading.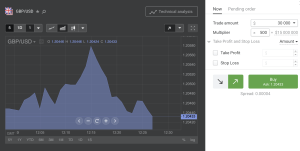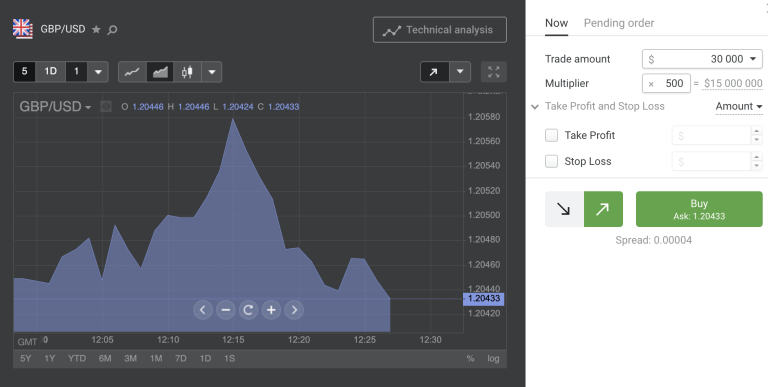 Platform Usability and Accessibility
Libertex has an intuitively designed platform that aims to simplify trading for both beginners and professional traders. It's highly compatible, functioning seamlessly across PCs, mobile devices, and web browsers. This cross-platform functionality ensures that traders have continuous access to the markets, whether they're using Windows, macOS, iOS, or Android.
Trading Instruments and Tools
Libertex offers a broad range of over 250 trading assets, spanning across various markets like forex, stocks, indices, commodities, and cryptocurrencies. This vast selection ensures traders can diversify their portfolios and find assets that align with their investment strategies.
Libertex equips traders with a multitude of analytical tools, including over 45 technical indicators for comprehensive market analysis. These tools allow traders to assess market trends, make informed predictions, and make strategic trading decisions. The platform's interface permits users to change the display format of the underlying asset value to either a line, Japanese candlesticks, or a zone – enhancing the overall user experience and market view.
Spreads, Commissions, and Fees
Libertex operates with a transparent pricing model, offering tight spreads and low commissions starting from 0.0003%. This favourable pricing structure enables traders to calculate their potential net profits in advance, making financial planning more straightforward. However, it's worth noting that fees may vary depending on the trading instrument and the nature of the transaction.
Learning Resources and Trading Education
Education plays a critical role in trading, and Libertex recognises this by providing ample educational resources. Their official website features a comprehensive 'Education' section, loaded with video tutorials that cover a range of topics. This includes guides on how to use the platform, understand different trading concepts, and perform detailed market analysis.
Demo Account
Libertex offers a demo account to help beginners grasp trading concepts and allow experienced traders to test out new strategies without risking real money. The demo account comes pre-loaded with virtual funds, and replicates real market conditions, offering a realistic and risk-free trading environment.
Regulation and Security
Libertex is regulated and supervised by the Cyprus Securities and Exchange Commission (CySEC) under license CIF No. 164/12. This oversight ensures the platform adheres to stringent regulations, providing traders with a secure and fair trading environment.
Fund Withdrawal Options
Libertex offers a variety of withdrawal options, accommodating various popular methods including bank accounts, electronic wallets like Neteller and Skrill, and cards such as MasterCard, VISA, and Visa Electron. Depending on the chosen method, the withdrawal times can range from instant to 2-5 business days.
Customer Support
Customer support at Libertex is multilingual and available through a multitude of channels, including telephone, website, email, online chat, and mailing address. While the platform strives to offer prompt customer support, response times may vary.
What Regions Does Libertex Serve?
Cyprus is available in more than 120 countries. However, access to libertex.com – which plays host to most of its features – is available to only the following countries.
Austria,
Belgium,
Bulgaria,
Croatia,
The Republic of Cyprus,
Czech Republic,
Denmark,
 Estonia,
 Finland,
France,
Germany,
Greece,
Hungary,
Ireland,
Italy,
Latvia,
Lithuania,
Luxembourg,
Malta,
Netherlands,
Poland,
Portugal,
Romania,
Slovakia,
Slovenia,
Spain,
Sweden,
UK,
Switzerland,
Iceland,
Liechtenstein
Norway
Is Libertex Available in India?
Yes, Indian traders can access the website via libertex.org. The website offers the same facilities in India as it would to any other country not in the list above.
Libertex Payment Methods
Libertex has multiple withdrawal and deposit options available. With zero-payment methods, users can deposit money in their Libertex account for free. Furthermore, the withdrawal methods are also simple to navigate.
Deposits
Users can fund their Libertex accounts either using fiat or crypto methods. In fact, the options available are as follows:
Skrill
Neteller
WebMoney
Bank transfer
Crypto traders can fund their accounts using the following methods:
Bitcoin
Jeton Wallet
Tether (USDT ERC-20)
Withdrawals
All the payment methods listed above, from Skrill to Bank Transfer to crypto methods such as Jeton Wallet and Tether, are applicable to withdrawals as well. Furthermore, there are no fees on withdrawals from the trading account on Libertex.
Does Libertex Have an App?
Yes, Libertex does offer a mobile app that allows users to access the financial markets quickly. The tools available on the application are as robust as the web application. Our experts did not consider that the application was lacking at any point. The app is available for both android and apple,
The mobile is intuitive and easy to use. It has features such as the creation of a personal action plan, access to trading signals, trading ideas, visual opportunities to trade directly from the charts, and more. Traders also get access to a graph that shows them the assets popular among other investors.
Why Do We Recommend Libertex?
We have checked every aspect of the website from start to finish. From the very beginning, we understood that trading through this platform would be a cakewalk. The signing process was simple, getting access to the assets was easy, and most trades could be made directly from the chart – which we really appreciated because it allowed us to look at the market before pressing the button.
The trading process was almost instant – we didn't feel any downtime during the process. Our assessment of the platform from a purely UI perspective is positive. The withdrawal times were also minimal.
Also, during our process, we did hit a snag and had to contact customer support. We got a response within the next given minutes, and in the next few minutes, the issue was resolved.
We then moved on to his license and cross-referenced it on the company registration website. We are happy to report that the company registration details and the licenses are authentic.
Overall, we could not find any flaws or red flags with this website. There is no learning curve here, users can just start trading once they create an account, and the demo account offers amazing training wheels for first-time traders. Because of these reasons, we do not have the slightest hesitation to recommend Libertex to our readers.
Conclusion
Libertex has over 322 tradable assets available, the trading fee is low, the deposit and withdrawal fees are absent, and the user interface is beginner-friendly. This platform does everything in its power to make trading a smooth sailing for its users. It is one of the reasons why it has gained popularity among international traders.
Libertex remains committed to creating an excellent workplace for domestic and international talent, offering access to high-quality online courses and seminars at no expense. The company's objectives for 2023 include expanding its team and providing exciting opportunities in an innovative workplace.
So, if you are on the fence about starting trading on Libetex, there is no need to wait. What's more is that if you join now, you will also get access to welcome bonuses. And the platform also has draws that can help you win up to 500 Bitcoin – not a bad deal for a beginner-level trader.
Crypto products and NFTs are unregulated and can be highly risky. There may be no regulatory recourse for any loss from such transactions.