How to Buy Litecoin in September 2023
Tutorial: How to Buy Litecoin on Admiral Markets in India
To dive into the world of cryptocurrency trading and especially to buy Litecoin in India, it's imperative to have an operational brokerage account. The good news is that establishing this account is an uncomplicated procedure that can be finalised in mere minutes. This article will guide you through the sequential steps for opening an account on Admiral Markets, one of the premium brokerages available in India.
Step 1: Navigating to Admiral Markets' Website
Begin by heading to the Admiral Markets' website. Look for and click on the 'Sign Up' button. This action will redirect you to the account registration page, where you'll be prompted to enter select personal and contact information.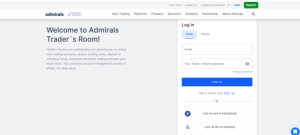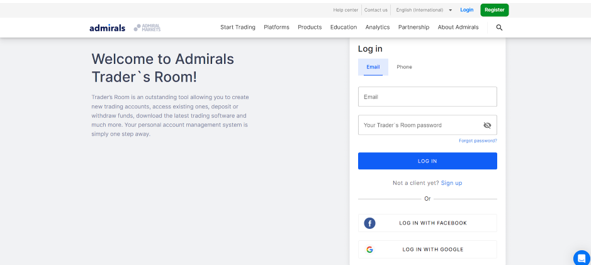 Admiral Markets Website
An ensuing short form will present itself, necessitating details like your country of residence, email address, phone number, and a secure password. After thoroughly reviewing the platform's terms and conditions, ensure you check the consent box, keeping a keen eye on its Privacy Policy. Once all is in order, press the 'Sign Up' button and advance to the subsequent step.
Step 2: Input Your Personal Information
This phase requires you to furnish detailed personal information. Given that Admiral Markets is a recognised and regulated platform, it will solicit particulars like your name, birth date, and contact data. Additionally, identity validation via documents such as a PAN card or Aadhaar card will be necessary.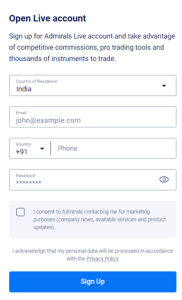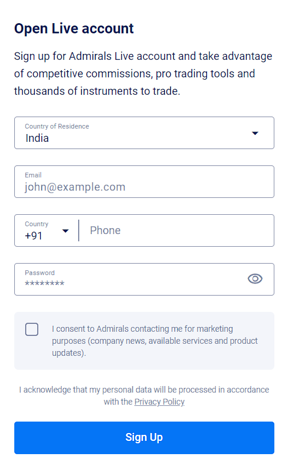 Step 3: Opt for the Suitable Account Type
Admiral Markets caters to a diverse clientele by offering multiple account types. For those new to trading and looking to gain some hands-on experience, there are demo accounts. Conversely, seasoned traders can leap directly into the action with live accounts. Based on your proficiency and objectives, choose an appropriate account and click the 'Open Account' button.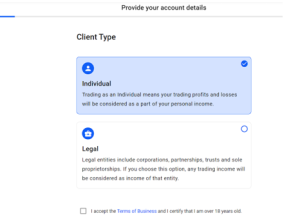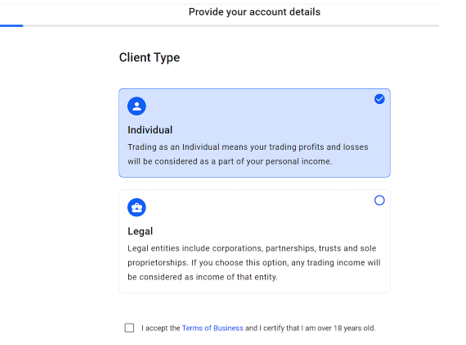 Step 4: Undergo Identity Verification
Being a regulated entity, Admiral Markets abides by local norms and regulations. Hence, there is a mandatory identity verification process before you're granted trading permissions. For this, you'll need to submit the identity documents mentioned earlier. Once Admiral Markets verifies the provided details, a confirmation email will be dispatched to you, post which you can proceed.
Step 5: Add Funds to Your Account
Upon receiving the verification email, the next stride is to deposit funds into your account. Admiral Markets extends multiple payment gateways, encompassing credit/debit cards, bank transfers, and e-Wallets. Choose a method that aligns with your preference, specify the deposit amount, and the funds should promptly reflect in your trading account.
Step 6: Initiate an Order to Purchase Litecoin
With the account set up, you are now primed to buy and trade Litecoin, alongside other cryptocurrencies. Furthermore, if you're inclined towards diversifying your investment portfolio, Admiral Markets offers a broad spectrum of assets, including stocks, for consideration.
How Does Litecoin Compare to Bitcoin?
The core distinctions between Litecoin and Bitcoin are evident in their supply constraints and underlying protocols. Bitcoin's supply is fixed at 21 million, whereas Litecoin allows for a maximum supply of 84 million. The coin mining techniques also differ: Bitcoin employs the SHA-256 algorithm, whereas Litecoin utilises an adapted version of Scrypt. This variation not only affects the mining process but also has repercussions on transaction speed. Impressively, Litecoin's transaction confirmation is quadruple the speed of Bitcoin, a benefit especially appreciated by merchants who prioritise transaction speed over heightened security. Yet, it's worth noting that quicker transaction speeds can potentially compromise security, given the reduced verification rounds.
Litecoin or Ethereum: Which Stands Out?
Litecoin primarily facilitates peer-to-peer transactions. In contrast, Ethereum serves as a comprehensive ecosystem supporting a myriad of cryptographic technologies through its global virtual machine. Ethereum's native token, ether (ETH), enables transactions within its blockchain and often holds a dominant position in market rankings. Your preference between the two—whether Litecoin or Ethereum—ultimately hinges on your specific objectives and anticipated applications.
The Road Ahead for Litecoin: Uncertainty or Promise?
Predicting Litecoin's trajectory is no simple task, given the ever-evolving cryptocurrency landscape. Governments worldwide are scrutinizing digital currencies, while new cryptocurrencies emerge constantly, adding to market volatility.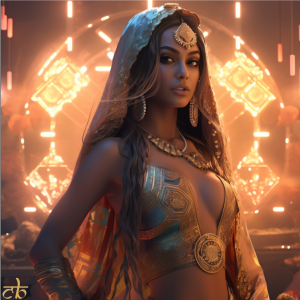 Is Investing in Litecoin a Wise Decision?
While Litecoin's inception was not driven by speculative intent or as a store of value, it hasn't deterred some from viewing LTC as an investment vehicle. However, potential investors should always seek expert counsel to evaluate if Litecoin aligns with their financial goals.
The Role of Halvings in Proof of Work
Halvings are integral to the mechanics of Proof of Work blockchain systems. These events can significantly influence a cryptocurrency's value and, importantly, its mining landscape.
For context, let's look at Litecoin as an illustrative example. A past halving event witnessed the mining reward for Litecoin halved. The immediate aftermath was a marked decrease in mining activity, primarily due to reduced profitability given consistent operational costs.
Understanding the Shift in Litecoin's Mining Dynamics
A specific halving saw the Litecoin mining reward drop significantly. In the days leading up to such an event, the LTC Hash Rate, a measure of the total computational power used by miners to confirm transactions and secure a blockchain network, began to decrease.
A decrease in the Hash Rate suggests a reduced commitment from miners, either pulling back resources or abandoning the Litecoin network entirely. Such a drop can be concerning for investors. Less mining might translate to slower transaction times and potential security vulnerabilities in the blockchain.
While short-term Hash Rate fluctuations are typical, prolonged downward trends can be more alarming. Such a sustained decline could trigger a potential decrease in Litecoin's value.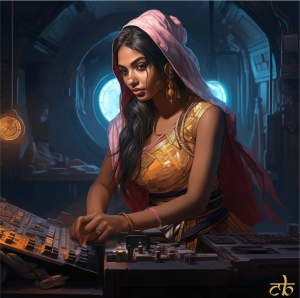 Changing Tides Among Significant Investors
Litecoin, known for its efficient transaction speeds and minimal fees compared to Bitcoin, has enjoyed popularity among many investors. However, uncertainties following halving events can dampen investor confidence.
Data indicates that significant Litecoin holders, often termed 'whales,' reduced their trading activity noticeably post-halving. If the Hash Rate continues to fall, their participation might shrink even further, potentially impacting market liquidity and driving down the LTC price.
Predicting Litecoin's Price Movement
Historical trends following past halvings hint at potential price shifts for Litecoin. Data analytics suggests specific support and resistance levels for Litecoin's value.
However, there's a silver lining. Speculations within the cryptocurrency community hint at Litecoin miners considering dual mining operations, including other cryptocurrencies like Dogecoin. If widely adopted, this strategy could potentially bolster mining profits and revitalise the LTC Hash Rate, possibly driving the LTC value upward.
Invest Responsibly in Litecoin
It's essential to approach the surge in Litecoin's popularity with informed caution. The cryptocurrency sector, including Litecoin, carries its unique set of risks and uncertainties. The volatile nature of cryptocurrencies, coupled with regulatory and security concerns, can impact its valuation. Thus, while the potential for returns might be attractive, a thorough understanding of the cryptocurrency realm, rigorous due diligence, and a robust risk management strategy are vital for any investor.
It's also crucial to recognise that, akin to any investment, not every plunge into Litecoin will yield substantial returns. Diversification remains a cornerstone strategy, even when considering a potentially profitable cryptocurrency like Litecoin.
In conclusion, while forecasting the exact trajectory of Litecoin's growth is challenging, its increasing acceptance and potential for innovation indicate a hopeful horizon for investors. The heightened interest in Litecoin represents a considerable investment opportunity for those keen on navigating the dynamic world of cryptocurrencies responsibly.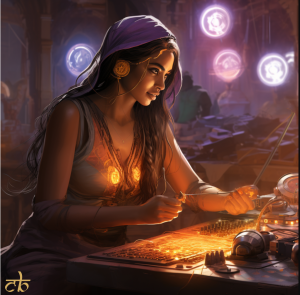 Concluding Remarks on Litecoin
Litecoin, often referred to as the silver to Bitcoin's gold, has carved out its distinct space in the world of cryptocurrencies. It is marked by a number of unique features, including a higher maximum supply cap and a different mining protocol that allows for faster transaction confirmations. Over the years, events such as halvings have had a significant impact on Litecoin's mining activity and, by extension, its price and appeal to investors. This dynamic nature, combined with regulatory uncertainties and market volatilities, makes it imperative for investors to approach Litecoin with informed caution and a well-considered strategy.
The cryptocurrency landscape is constantly evolving, and Litecoin, despite its potential, is not exempt from its challenges. Recent trends have indicated shifts in mining activity and investor confidence, especially following major events like halvings. These fluctuations underscore the importance of continuous monitoring, research, and diversification when investing in the cryptocurrency sector.
Yet, despite these uncertainties, Litecoin's enduring presence in the top tier of cryptocurrencies, its innovative solutions, and its dedicated community all point towards its potential resilience and growth. As with any investment, potential Litecoin investors should be armed with accurate data, keen insights, and a thorough understanding of the broader cryptocurrency landscape to make well-informed decisions.
Key Takeaways
Litecoin offers faster transaction confirmations compared to Bitcoin, making it attractive for certain uses.
Halving events, integral to Proof of Work blockchains like Litecoin, significantly influence the cryptocurrency's price and mining activities.
Recent shifts in mining activity and major investor participation have raised concerns but also spotlighted potential growth avenues, such as dual mining with Dogecoin.
Diversification remains a core strategy when investing in Litecoin to navigate its inherent volatilities.
Proper research, understanding, and a responsible approach are vital when considering an investment in Litecoin or any other cryptocurrency.
Crypto products and NFTs are unregulated and can be highly risky. There may be no regulatory recourse for any loss from such transactions.