Introduction to Buying Silver Online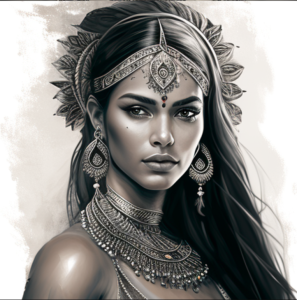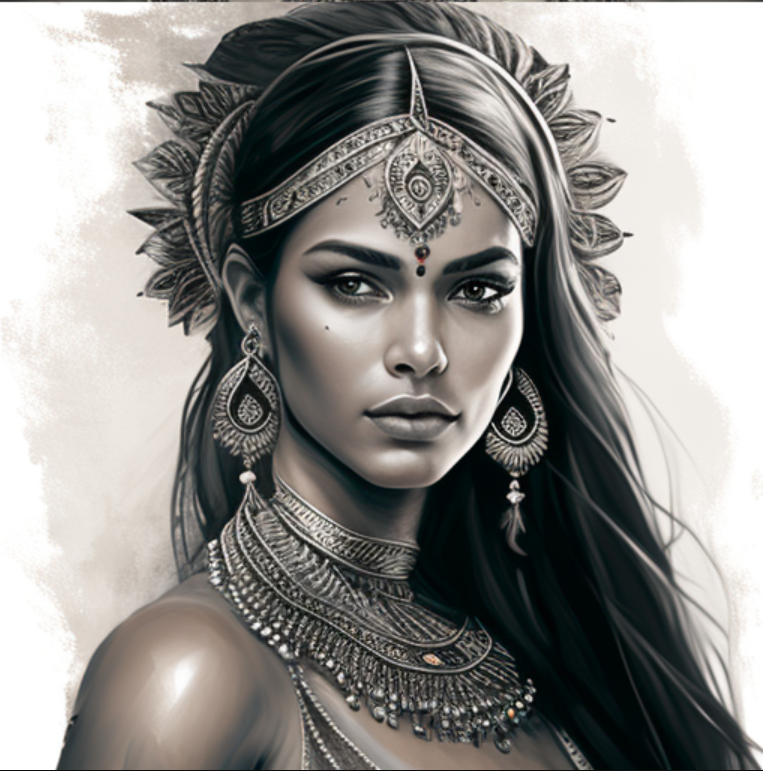 India has always had a great love for gold. In fact, one fun fact claims that Indian housewives hold 11% of the world's gold, which is more than the reserves of the United States, IMF, Switzerland and Germany. However, over the last few years, the country has apparently developed a great interest in silver as well.
A significant uptick in the demand for silver came after the COVID-19 pandemic. As the pandemic emerged, shutting down businesses and threatening to destabilize the economy and negatively impact traditional currencies, the entire world turned to gold. With the price of gold skyrocketing, Indian investors decided to turn to silver instead. Some reports stated that India imported 5,100 tons of silver in the first seven months of 2022.
As of March 18th 2023, the price of silver in Mumbai is ₹72.10 /Gram. However, there are slight variations in price depending on the city. Reports from earlier in 2023 have also noted that Indian investors are taking advantage of increasing silver investment options. With that said, those new to the world of investments might be wondering how to buy silver online in India, which is what this guide is going to answer.
Benefits of Investing in Silver
There are several reasons to consider investing in silver, which automatically makes it worth learning how to buy silver to begin with. For example, Silver is a safe asset that will, quite literally, never lose its shine. As such, it is fairly similar to gold. However, it is significantly cheaper than gold, which makes it more affordable. With a growing demand in India, its price could still go up quite significantly, which makes it worth purchasing early.
Silver also has a diverse array of applications. It is used for making currency coins, jewelry, tableware, utensils, disinfectants, chemical reactions, TV monitors, mirrors, photographic film, silver nitrate solutions, CDs, electrical contacts, and more. Lastly, silver could also serve as a hedge against inflation. While currencies such as the Indian rupee can suffer or even completely fail (even if only in extreme circumstances), silver will still survive due to its many industrial, cosmetic and even cultural uses.
Buy Silver Using Online Brokers
With all that said, you might be wondering what is the best way to actually buy silver? Well, in this day and age, the easiest and fastest way to get silver at fair prices is to buy it online.
As for how to buy silver online in India, your best bet would be to turn to online brokers. These are online services that let you access various markets and easily invest in different assets. Online brokers offer access to user-friendly platforms where you are only a few clicks away from making an investment. 
In order to use online brokers, you will need to create an account on their platform, which is often free to do. After that, you can deposit some money that you are willing to use for investments, and start buying silver.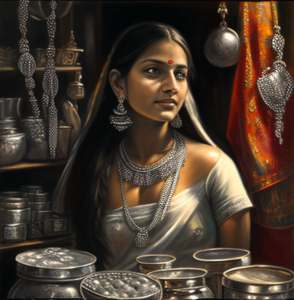 How to Buy Silver Online
There are many online brokers out there today, and pretty much all of them offer access to silver. However, each of them has its own set of features, available markets, fees, and other aspects worth considering. In fact, the number of available brokers can be quite overwhelming if you are new to the investment world, which is why we have taken the liberty to go through them and try to narrow down the list, for your convenience.
We came up with the top two brokers that offer the best features, which include Libertex and Admiral Markets. They have been tried and tested over a period of six months or more by our team, from multiple accounts, ranking the highest score of reliability for low fees, customer satisfaction, user-intuitive dashboards, legal compliance and payment processing protocols, as well as the alluring bonuses that they bestow upon their customers on a recurring basis.
Pros
Over 40,000 active clients from 110+ countries, carrying out an average of 1.5 million trades per year.
Competitive spreads as low as 0.5 pips and up to 500:1 leverage for forex trading.
Provides access to over 8,000 trading instruments, including 40+ forex pairs, 200+ stocks, and 5+ cryptocurrencies.
Cons
Admiral Markets has relatively high minimum deposit requirements for some account types, such as those in GBP.
Some users have reported slow response times from customer support, during excessively busy periods.
Pros
0% fees on stock trades, minimum deposit of only $10 or equivalent
Over 322 tradable assets available
Unmatched user-friendly interface, easy for beginners to catch on
Cons
Unavailable in some countries, including the United States
Only features two types of accounts (Demo and Standard)
Admiral Markets
To start off, we have Admiral Markets, which stands out as one of the best online brokers in India. If you were wondering how to buy silver online, this broker should definitely be one of the places to visit. Admiral Markets' platform is very easy to use, and it features a variety of assets. Obviously, that includes silver.
However, the broker also offers great growth potential, and it lets you diversify your portfolio, thus increasing its profitability. Apart from that, it is worth noting that Admiral Markets also has an app that you can use on Android and iOS devices, plus a number of powerful trading tools that feature risk management features, as well as tools for optimization and analysis.
You have to create a free account in order to use it, but the good news is that you can start investing with as little as 1 EUR, or equivalent. Meanwhile, you can deposit your money in several different methods, such as bank transfers, Visa, Mastercard, or Perfect Money. No matter which method you select, you can deposit your funds with no additional fees. 
Speaking of fees, there are still some that you should be aware of. For example, the platform has a $10 inactivity fee, meaning that, if you create an account and then fail to make any actions for a month, you will be charged $10 for that month. Apart from that, there is also a 0.3% conversion fee. Withdrawals come at no fees for the first withdrawal each month. Each consecutive withdrawal will cost you $10 for bank transfers, vs $1 if you use Perfect Money.
Libertex
An alternative solution for how to buy silver online is Libertex — another excellent broker for Indian users that offers a variety of assets in addition to silver itself, such as cryptocurrencies, stocks, and forex. This platform is also very user-friendly, with a design that is intuitive and easy to navigate, even by first-time users. Furthermore, the platform offers different prizes as incentives for users to sign up and start trading. Like our previous entry, this one is also available via mobile apps or you can just use its web version if you prefer trading on PC.
Libertex does not charge any commission on deposits either, but it has a minimum deposit of $50, or equivalent in other currencies. You can make deposits and withdrawals using Visa, Mastercard, bank transfers, or Skrill. For most trades, there is also no trading fee either. 
However, when it comes to withdrawals, there are certain fees, as well as different times of withdrawal. Both depend on what method you choose to use. For example, Skrill lets you make instant withdrawals, with a 1% commission. The minimum commission is $0.5, while the minimum amount that you can withdraw is $1. There is also a limit of $2,000 per withdrawal, so this method can be limited if you wish to work with larger figures. In that case, bank transfers are a better option, as they have no upper limit. The minimum, however, is $30 for this method, and there is a flat fee of $29. One downside to bank transfers is that withdrawals can take up to five business days.
One of the unique features of Libertex is their proprietary trading platform, which is user-friendly and customizable. This platform offers a range of technical analysis tools and trading signals, allowing you to make informed trading decisions. Libertex also offers a range of educational resources, including webinars and tutorials, designed to help traders improve their skills.
Overall, Libertex is an excellent choice for Indian customers looking to trade gold. With competitive pricing, a user-friendly platform, and a range of educational resources, Libertex is a reliable broker for traders of all skill levels.
Understanding Silver Investments
Now that you understand how to buy silver online in India, it is time to really understand what investing in silver means. Specifically, silver investing is not a bad way to invest, but it is always better to know as much as you can about the asset you are interested in, and not just learn how to buy silver and immediately move on to doing it.
Different Types of Silver Investments
The first thing to note is that there are different types of silver investments. Specifically, you can gain exposure to silver by purchasing physical silver bullions, ETFs, or futures contracts based on silver. 
Silver Bullion
Investment-quality silver bullion is always fine silver. It consists of at least 99.5% pure silver, and it comes in the form of bars or ingots. Bullions are often kept by governments and central banks as reserve assets. 
Silver ETFs
Then, you have silver ETFs (Exchange-Traded Funds), which are funds held in trust by fund managers and custodians. They track the spot price of silver on the open market, seeking to be as precise as possible. Those who wish to learn how to buy silver online often choose ETFs, as they are a great hedge against inflation, they offer greater liquidity than the metal itself, and are readily traded and more accessible.
Silver Futures Contracts
There are also silver futures contracts — standardized, exchange-traded contracts where the contract buyer agrees to take delivery from the seller that includes a specific quantity of silver at a predetermined price on a specific date in the future. However, silver futures are often traded with no actual intention of receiving the metal. Essentially, you are betting on its future price. This is possible due to how futures contracts work. Essentially, they allow traders to speculate on the direction of a commodity's price. If you buy futures contracts at a certain price, and the price of the asset — in this case, silver — grows, and it starts trading above the original contract price (at the expiration date), then the buyer makes a profit.
What Affects the Price of Silver?
Silver is wanted for two main reasons: its industrial uses, and the fact that it is a noble metal. These things ensure that it will always have value. As for what might affect that value, and either result in its growth or drop — multiple factors could have that kind of an impact. For example, supply and demand could significantly increase the price of silver. This is what we have seen in India over the last few years. Investors started looking into how to buy silver online in order to protect their wealth, which significantly increased the demand.
As a result, the price of silver grew as well. Then, there are geopolitical events, which can increase the demand. Conflicts such as the Russian invasion on Ukraine further destabilized the financial industry, and investors started looking into how to buy silver, expecting difficult times for traditional currencies. Even economic indicators, such as rising inflation, can also affect the price of silver, in pretty much the same way.
Are There Risks Involved With Investing in Silver?
Unfortunately, no asset of value comes without risk, and risks are one of the things that you must be aware of even before you learn how to buy silver online in India. One of the risks to keep in mind is price volatility. Since the price of silver does change, based on the factors described above, that means that it can go up or down. As such, you can always find yourself in danger of buying silver at a certain price, only for its price to drop. In this case, you would suffer a loss.
There are also risks of fraud, which is also one of the risks that follow every asset. Unfortunately, whenever there is money in something, there are also those seeking to exploit it for personal gain. There is also one more risk known as the counterparty risk. It represents the likelihood, or probability, that one of the individuals involved in a transaction might default on the contractual obligation that they accepted. Basically, one of the participants in the transaction might fail to deliver, thus leaving the other party at some sort of loss.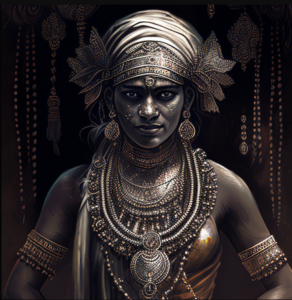 Why It Is Important to Diversify Your Portfolio
The safety of your investment is every bit as important as knowing how to buy silver online, likely even more so. In this context, we are not talking about protection from scammers but rather protection from the market itself. Simply put, it is never a good idea to invest all of your money into a single asset. You can never know what might happen to a said asset, and if its price sees a strong drop, you will be facing major losses.
This is the case with silver, as well as with stocks, cryptocurrencies and any other investment vehicle out there. As a result, one of the golden rules of investing is to always diversify your portfolio. That way, you can minimize the risk, and even if one of the assets you have invested in happens to crash, the others will protect your overall funds. At the same time, investing in multiple assets — successful assets with great potential — could strongly maximise your returns.
Trading Silver Through Online Brokers
So far, we have talked about how to buy silver online in India, which brokers to go to, the benefits, the risks, and alike. However, in this section, we would like to focus a bit more on the brokers' platforms. 
Specifically, learning how to use and navigate them, as this is key to learning how to buy silver on these platforms. With that said, understanding the trading platform of the selected broker should be one of your top priorities. Let's say that you wish to use Admiral Markets to place a buy order for silver CFDs. First, you would have to sign up with the platform and register for a Trade.MT5 account. Next, you would have to download, open, and log into the MetaTrader 5 trading platform.
You can bring up the Symbols window within it by pressing CTRL+ U, and there, you can search for silver CFDs. After you locate the on the list, click the Show Symbol button to add the asset to Market Watch.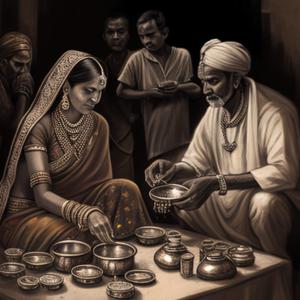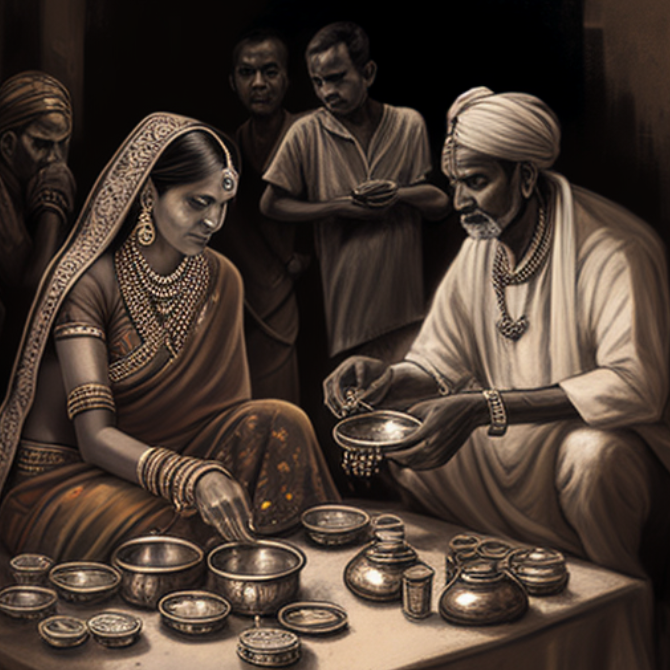 From there, you would go to the Market Watch window on the left side of your screen and find the symbol for silver there. Right-click on the symbol and select Chart Window. This will open the price chart, allowing you to see its performance. However, this is also where you can place a silver trade by clicking "New Order" at the top of the screen. That will open the order window, so you can set the desired order volume and use some risk management tools, such as stop-loss and take-profit.
After that, all that remains is to keep an eye on the charts, as well as any news and developments that may involve silver. These would serve as indications regarding how the asset is performing. As a result, they will hint at whether you should keep holding onto the assets you have purchased or if you should sell in order to grab the profits.
Pros
Over 40,000 active clients from 110+ countries, carrying out an average of 1.5 million trades per year.
Competitive spreads as low as 0.5 pips and up to 500:1 leverage for forex trading.
Provides access to over 8,000 trading instruments, including 40+ forex pairs, 200+ stocks, and 5+ cryptocurrencies.
Cons
Admiral Markets has relatively high minimum deposit requirements for some account types, such as those in GBP.
Some users have reported slow response times from customer support, during excessively busy periods.
Pros
0% fees on stock trades, minimum deposit of only $10 or equivalent
Over 322 tradable assets available
Unmatched user-friendly interface, easy for beginners to catch on
Cons
Unavailable in some countries, including the United States
Only features two types of accounts (Demo and Standard)
Tutorial: How to invest in Silver in India
In order to trade silver in India, you will first need to open a new brokerage account. Fortunately, doing so is a very simple process, which you can complete within minutes. This step-by-step guide will tell you everything you need to know in order to open an account with Admiral Markets, which is one of the best brokerages in India.
Step 1: Go to Admiral Markets' Website
Your first step is to visit Admiral Markets' website, and click on the Sign Up button. Doing so will take you to the account opening page, which will require you to enter a few personal and contact details.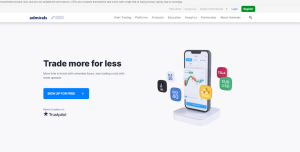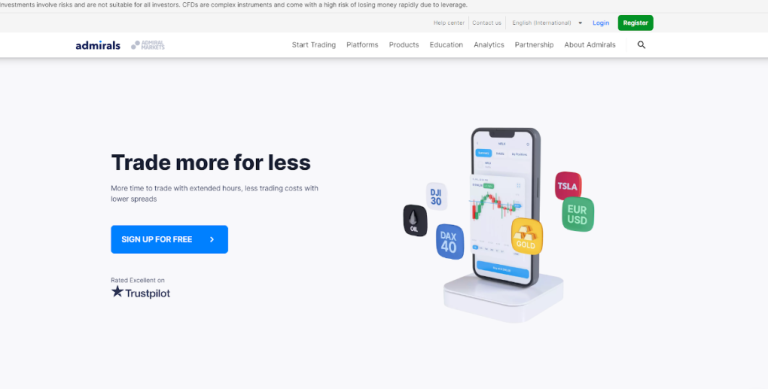 The next step will be to fill out a short form that pops up, which requires your country of residence, email, phone number, and password. Don't forget to check the consent box after reading the platform's terms, and pay special attention to its Privacy Policy. Once you are done with all that, hit the Sign Up button, and proceed to the next step.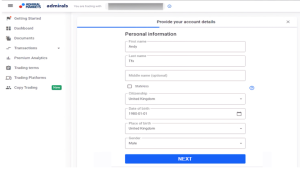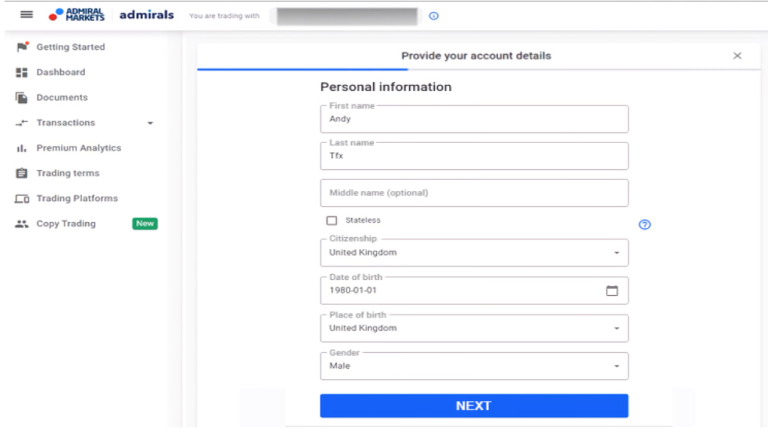 Step 2: Fill In Your Details
The next step is to enter your personal information. Since this is a registered and regulated platform, it requires your name, date of birth, as well as contact information. It will also require you to provide certain documents in order to confirm your identity. A PAN card or Aadhaar card will do the trick.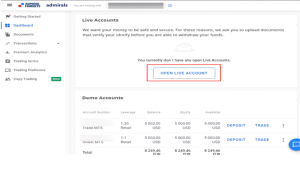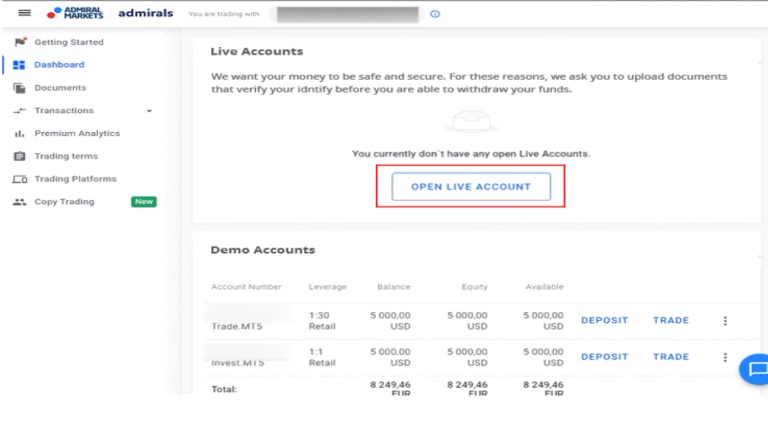 Step 3: Select the Type of Account That Is Relevant for You
The next step will be to choose a type of account since Admiral Markets offers multiple account types. That includes demo accounts, which are useful for inexperienced traders, where they can practice trading. Alternatively, for experienced traders, there are live accounts so they can engage in trading straight away. Select an account that fits your needs, and hit the "Open Account" button.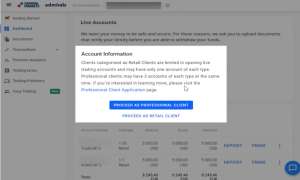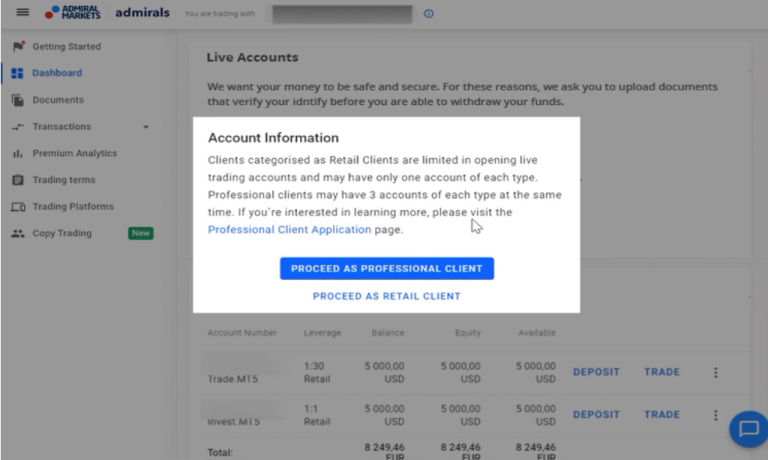 Step 4: Identity Verification
As mentioned, Admiral Markets is a regulated platform, which means that it has to respect the local laws and regulations. This means having to verify your identity when you create an account on its platform, before it can allow you to start trading. To do this, it will request that you submit your identification documents mentioned earlier. Once the platform confirms that everything is in order, it will notify you via email, and you will be able to proceed.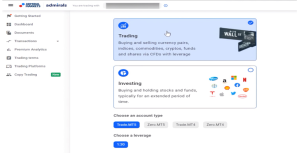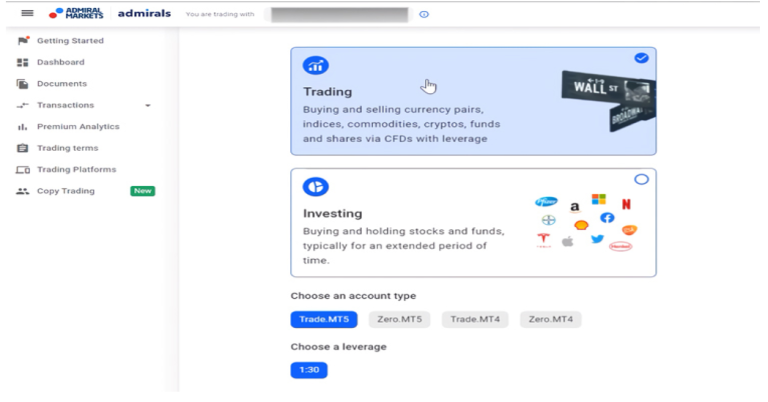 Step 5: Fund Your Account
After you get the email and the green light to start trading, it will be time to fund your account by depositing money. Admiral Markets offers several different payment methods that you can use, including credit/debit cards, bank transfers, and e-Wallets. Just pick your preferred method, enter the amount that you wish to deposit, and the money should appear in your trading account shortly.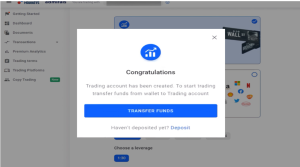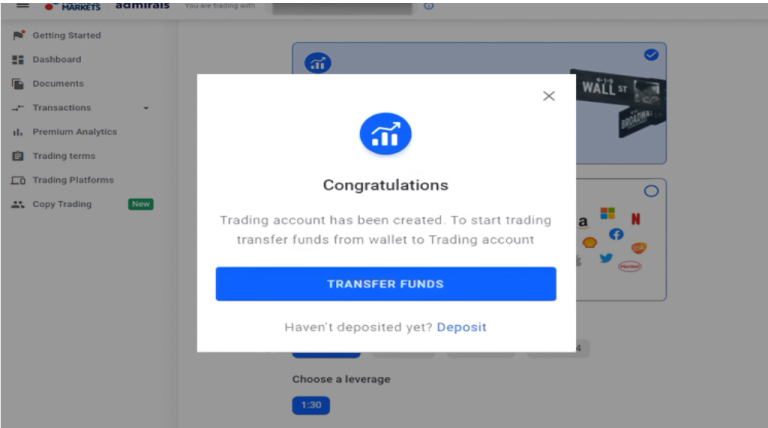 Step 6: Place an Order to Buy Silver
With that, your account should be ready for buying and selling silver and silver-based ETFs or CFDs. If you wish to diversify your portfolio, you can also look into stocks and other assets offered by Admiral Markets.
Tips for Successful Silver Investments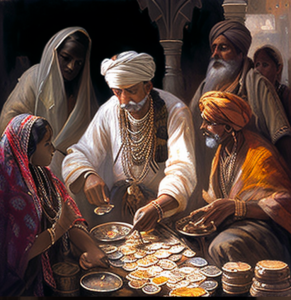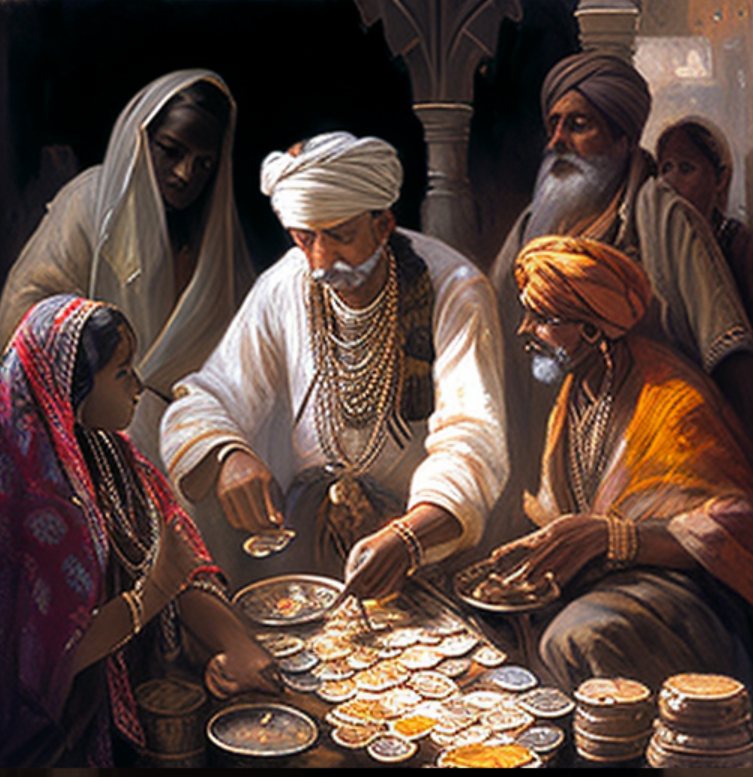 With that, you now know how to buy silver online and use its popularity in India to your advantage. However, learning how to buy silver is not the end, as you still need to develop and grow as an investor. Fortunately, there are many others who have entered this sector of the trading/investment industry and who are able to provide you with tips and things to look out for while you are learning how to buy silver online.
One of the most important things is not how to buy silver but

when

to buy it. Timing is extremely important, and for this, you need to do an analysis of the market sentiment as well as its price. Did the price recently reach an all-time high? Is it growing or dropping? Is there demand, or are people starting to lose interest? Learn the answers to these questions, and you will know if it is the right time to move.

Next, set your objectives for both the short and long term while you are learning how to buy silver online in India. Basically, make a plan of action, and don't just make random moves. Also, once you make a plan, you will do well to stick with it.

Remember, you are still learning how to buy silver online, so do not over-commit. Only invest the amount that you can afford, as investments in silver are typically meant to be long-term, and there is always a possibility that you might lose your money if the price crashes. 

Remember that the safest way to learn how to buy silver online is to use a respected, reputable broker. That is the safest way to avoid scammers and fake platforms. In addition, remember to diversify your portfolio and maybe hold only 10-15% of silver in your portfolio. The last tip on how to buy silver is to avoid buying physical silver if you can. Doing so presents storage and insurance problems. As a result, CFDs and ETFs are much better options.
Next, we have a few more tips — not on how to buy silver online in India, but rather on your portfolio management. Specifically, we mentioned earlier that prices of assets tend to change over time, and with that being the case, you need to monitor your portfolio regularly in order to react when needed. 
We will not tell you how often you need to do it — that depends on you, as you should monitor as often as it makes you comfortable. However, make sure to do it, and if you notice significant changes in the prices of the assets you have invested in, make sure to rebalance your portfolio as needed.
Taxation on Silver Investments in India
Finally, we would also point out the fact that your profits from silver in India are subject to taxation. Specifically, the country's laws say that the long-term capital gain is charged at 15%. However, if you make money from silver that you have held in your portfolio for less than 36 months, that will be treated as a short-term capital gain. This matters because the short-term capital gain is only charged at 10%, so you get to save up a bit extra. As a result, it pays to keep an eye on the dates of your purchases and make sales accordingly. Basically, wait for the best opportunity within 36 months, and you will be able to pay 5% less on your gains.
Recent Updates
Silver futures remain strong and have the potential for further gains. Silver bulls have the upper hand in the near-term technical outlook. The next key resistance level for silver is at the April high of $26.435. In case of a bearish move, the critical support is at $23.00. The current market rating is 7.0, indicating a positive outlook for silver. Silver traders can expect more bullishness in the future, with the precious metal potentially outperforming expectations.
Conclusion
Learning how to buy silver online in India can be very beneficial these days, as Indian investors have seemingly developed quite a taste for this noble metal. Of course, India will always have a special relationship with gold, but if gold turns out to be too expensive for you, then learning how to buy silver is the next best thing.
In this guide, we explained the risks of buying silver, and we pointed out where to buy it, and in what form. We also explained how to buy silver and which brokers are the best, and we shared all the best tips that we know on how to maximize your gains, minimize your losses, and even what might affect the prices. With all that said, the rest is up to you.
FAQs
What is the minimum investment required to invest in Silver through an online broker in India?

The minimum investment required to buy silver in India depends on the broker. There are brokers that will let you buy as little as $10 worth of silver, while others may have a higher minimum.
How long does it take to open an account with an online broker and start investing in Silver?

Opening an account with online brokers only takes a few minutes. Funding the account is also rather quick. However, before you start trading, you should learn how to buy silver online in India, as well as all the details involved with investing in silver.
Can I invest in physical Silver through an online broker?

Yes, it is possible to buy physical silver with online brokers. However, that comes with additional concerns, such as storage and insurance. Buying silver ETFs and CFDs is more practical.
Is investing in Silver through online brokers safe and secure?

It is, as long as you use a legitimate, reputable, and registered online broker. There are plenty of scammers in the world of investment who just want your money, and they are not picky about how they are going to get it. With that being the case, make sure to do your research before making a move.
What fees should I expect to pay when investing in Silver through an online broker?

Account opening and deposits typically come with no fees, but you might encounter trading fees, inactivity fees, and potential withdrawal fees. It is hard to say because each broker has its own policy, so make sure to do your research before committing to one.
What are the tax implications of investing in Silver through an online broker in India?

Indian tax authority charges 10% on any profits made from trading silver as long as they are made within 36 months from the moment of purchase. If you hold silver for longer than that, any profits you make will be charged at 15%, as those are considered long-term gains.
Can I trade Silver on margin through an online broker?

Yes, some silver-related investment vehicles, like silver futures, can be traded on margin. However, this might not be available at every broker, so once again, you need to do your research to make sure.
What is the typical duration of a Silver futures contract traded through an online broker?

The duration of the silver futures contract is predetermined and can vary. However, traders do not have to wait for the contract to expire. As long as the trade is closed before the contract expires, you can still make a profit.
What are the most important factors to consider when selecting an online broker for Silver investing?

The most important things to look into when selecting a broker is whether it is registered and regulated, the fees and whether it has all the assets you wish to invest in. After that, you should also consider payment methods, quality of customer support, users' reviews, and similar aspects of interest.
Can I invest in Silver ETFs through an online broker in India?

Yes, silver ETFs are available on most brokers in India. The popularity of silver itself was enough to ensure that, but since it is one of the oldest and most popularly traded commodities, it can certainly be found with almost every broker.