What Is Paxful?
Paxful is one of the most well-known and well-regarded cryptocurrency exchanges. It was founded in 2015 and was known as EasyBitx in the initial stage. With the growing popularity of cryptocurrency exchanges as a whole, Paxful provides a must-have trading solution to both new and experienced investors in different countries with no other alternatives to acquiring bitcoin and other crypto coins.


Paxful is a reliable and straightforward platform allowing crypto buyers and sellers to directly connect with each other to sell or buy Bitcoins and other prominent cryptocurrencies. There are no limitations on Paxful related to geographic and payment modes as it is a decentralized trading platform. Paxful also offers a payment processing service to websites, which empowers businesses to more conveniently accept a wide range of payment modes. Cryptos traded on the platform include Bitcoin, Ethereum, and Tether USD.
How Does the Paxful Exchange Work?
To start with the platform itself, the user must first register themselves and get verified to start trading at the marketplace. As a decentralized exchange, Paxful makes sure that there are no frauds or bad actors threatening their loyal clients, making it an authentic and secure place to trade without knowing who you are trading with. Paxful assures users by keeping the process of trading crypto as simple as possible. To start trading on Paxful, users just have to move to the official website and click on the Buy Bitcoin button. A message box will ask for the amount of Bitcoin quantity and the type of fiat currency to be traded. The site will also display the amount of Bitcoin in terms of the chosen fiat currency. Before starting at the platform the user must fulfill the following requirements:
The legal age should be at least 18 years old.
An ID proof, such as a driver's license or social security number.
A device such as a computer or a smartphone with internet accessibility.
A verified phone number for SMS verification.
The latest and updated version of the internet browser.
Let us now learn about how users can start their journey on Paxful.
Paxful.com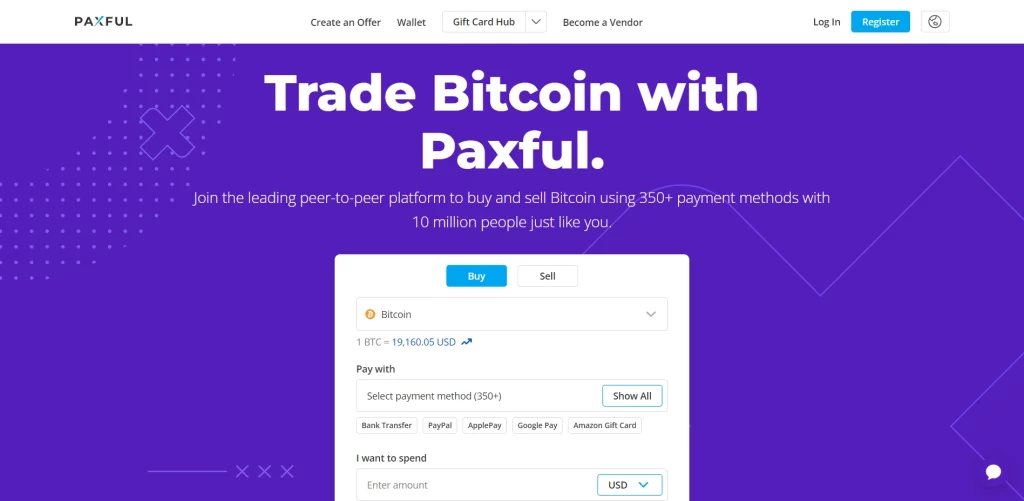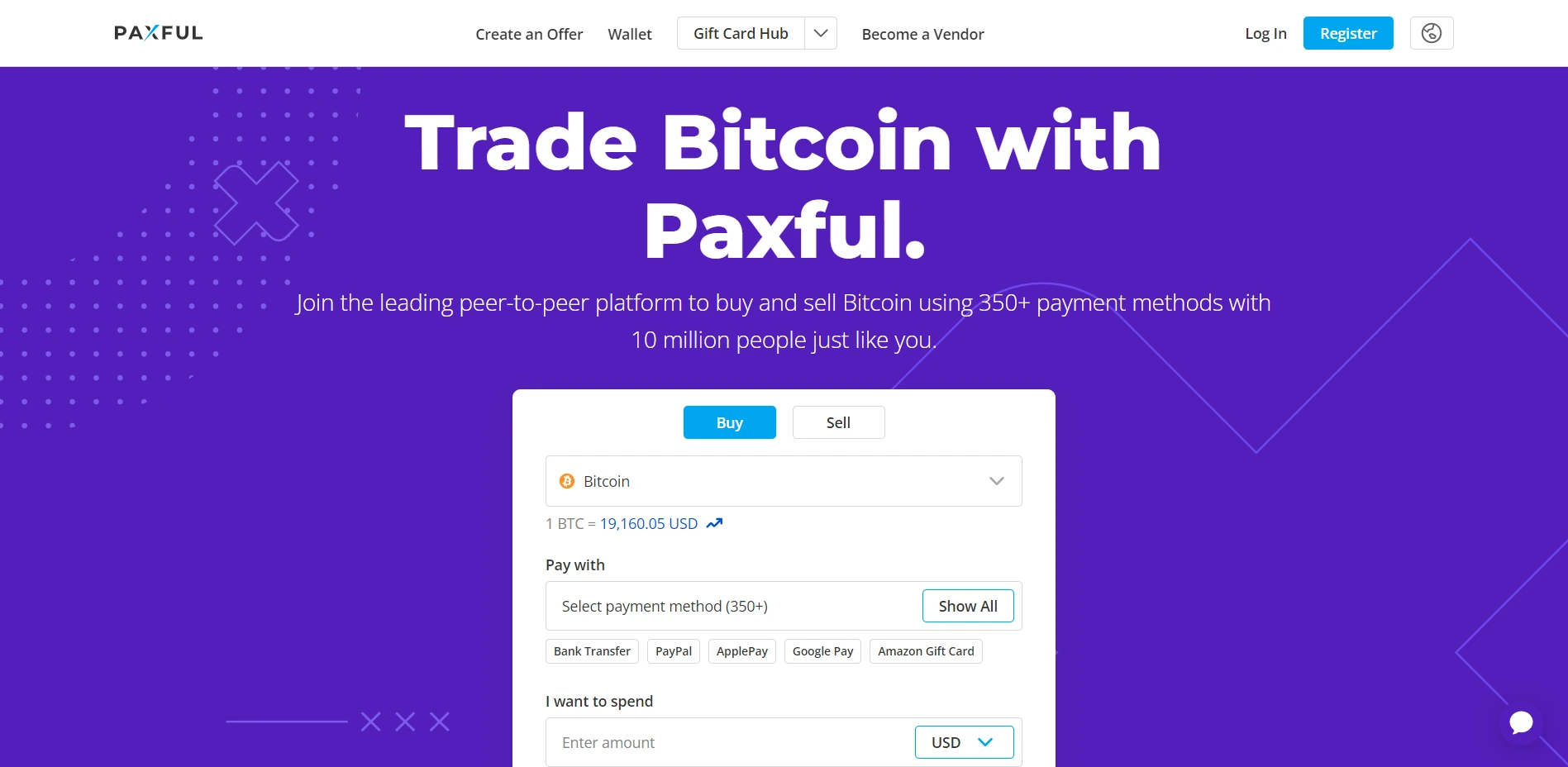 Start by visiting the website. Make sure that you are on the correct website to avoid frauds and scams by websites that are attempting to mimic the original.
Now in the top-right corner of the homepage, there is the Register button. Click on it to proceed.
Moving on to the next page, fill in the required details. The user can select to register with their phone number or email address.
Enter the phone number and verify it by entering a code that was texted to you if signing up using the phone number.
For logging through email, enter your email address and password. If someone referred you, you can use their referral code. Use a valid email address because you'll need to verify it later.
Now click on Create Account. Here users have to solve the puzzle to proceed to the next page. They will be asked if they wish to save their password for the website so that they don't have to type it every time they log in to their account. It is only advised to save only if the device they are using is their personal device, not used by just anyone.
Moving on users have to verify their identity. For that, they will receive a PIN via email and a link to your registered email address to verify that they own it.
Now for mobile verification, a code will be sent to the phone number provider by the user.
Once the number is verified the user is all set to trade. Voila! Now the users are all set to start with their first-ever trade on the Paxful platform.
Paxful App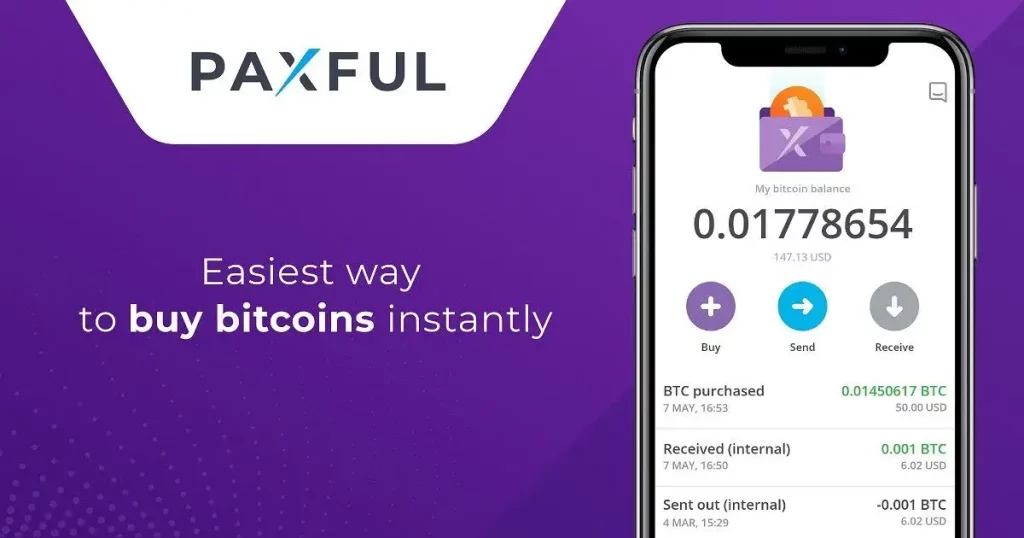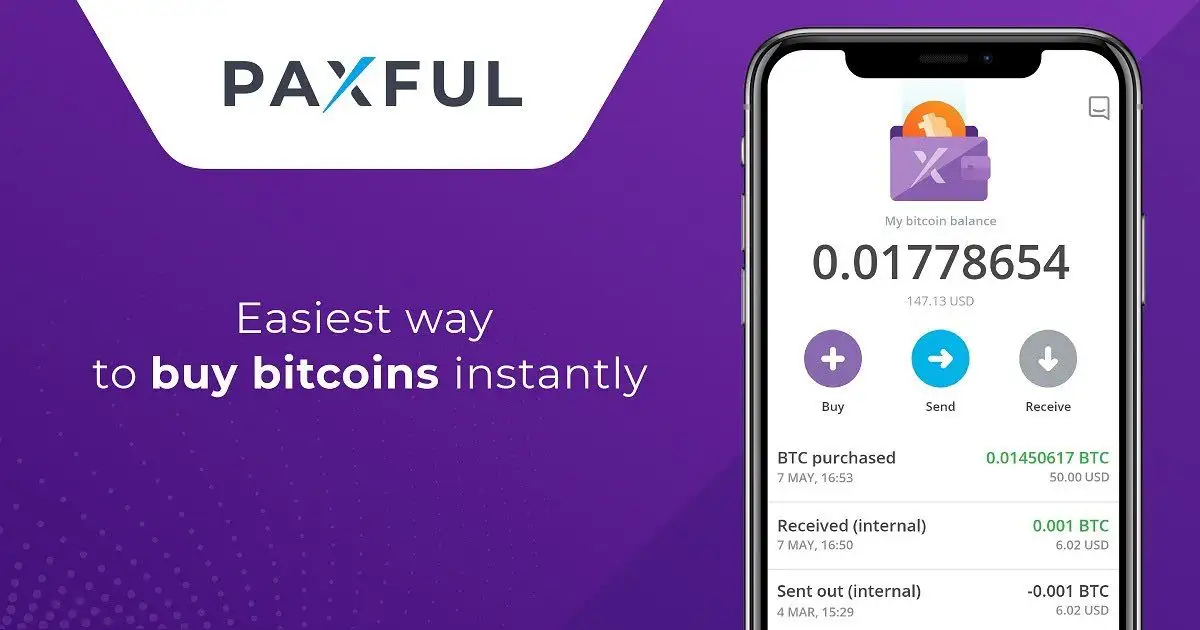 Start with downloading the app and then open it.
Now click on the create account tab on the screen.
Next users are required to enter their email id.
Now create the password, and if it is referred by somebody, the user can mention their code as well.
Now click on create account option. Here users have to solve the puzzle to proceed to the next step.
Now the user has to enter the code that has been sent to their email id.
Next, add the mobile number and set the pin.
Now users will see a thank you message on their signifying that they have successfully created their account on the Paxful mobile app.
Which Crypto Coins Are Available on Paxful Offer?
Paxful chooses quality over quantity by hosting very few but the top cryptocurrencies on their platform. This makes it easy for beginners to learn how they can buy Bitcoin if they are new to the industry. The most popular currencies traded on the platform are:
Fees & Limits on the Platform
If a user is buying Bitcoin on Paxful they do not have to pay any fees for that.
The fee differs from seller to seller depending on the payment method that has been opted for. All the vendors on the platform have their own price list for the cryptocurrencies they are offering. The rates change as per the factors that include identity verification status, after which point you want to pay, and what currency combinations you're interested in.
The platform has a wide range of fees it charge which includes:
Crypto trading fees: Buying crypto free on the platform regardless of any payment mode used. Sellers charged a price rate between 0.5% and 5% of the total order for every sale. If Bitcoin and other cryptocurrencies are being sold through bank transfers it costs the tiniest fee of 0.5%, but in the case of a gift card, the fee can go as high as 3% to 5% depending on the type of gift card. While other payment methods for selling cryptos have a flat fee of 1%.
Escrow fees: This fee is charged for selling cryptocurrencies only when the trade is completed, and some kiosk trades may need a fee along with Paxful's escrow fee.
Sending and receiving fees: Apart from the free crypto deposit fees, Paxful charges for withdrawals and transfers as per the transaction size. Any Bitcoin transaction that exceeds $20 is chargeable with a 0.0005 BTC fee and for and for USDT it is 5 USDT.
Conversion fees: In this case, any conversion from USDT to BTC is completely free. But in case of conversion from it is 0.1% paid in Bitcoin.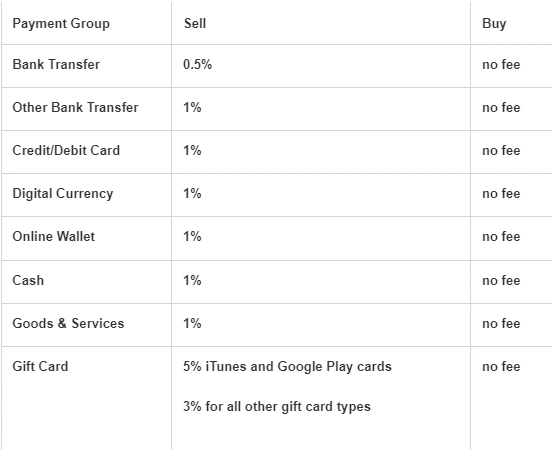 Limits
In order to experience trading on Paxful, it is extremely important for users to get verified. The platform has different verification levels with different limits for each level.
Level 1
For Email and phone verification. The limit is $1,000. Level one ensures increased security, and the ability to trade more and convert cryptocurrencies.
Level 2
Level 1 requirements + ID verification. The limit is $10,000. Leven two increase trade and sed out limits, access to more payment methods, and ability to create own offers
Level 3
Level 2 requirements + address verification. The limit is $50,000. Level three increases trade and sed out limits and removes the 0.002 BTC requirement for offers to be visible in the marketplace
Level 4
Level 3 requirements + enhanced due diligence. No limit to this level. Level four increased trade and sent out limits.
UI Guide
Paxful is a user-friendly and super easy-to-use platform. Not just for experienced users, the platform is a great option for those who are just at the beginner stage as well. This platform is also similar in functioning, unlike other trading platforms. These web-based platforms enable buyers and sellers to buy and sell in several types of orders. The web interface automatically searches for the best offers for the trades based on users' preferences.
On the first page of the site, the user will immediately be able to see the main dashboard. At the front of the screen, the user will have the option to buy bitcoin or sell it, view their account, access additional trading tools, modify their settings and simply click on the find orders option. For a new user, the platform is really simple, which makes it easy to navigate and explore through all of the different dashboard options.
On scrolling down a bit the user can click on the start trading option and they will be redirected to a new page. Here users will be able to see the list of vendors with their active status and can start trading.
How to Buy and Sell Cryptocurrency on Paxful?
Once the user has set up their account on Paxful, the user is all set to go. The moment the user logged into their Paxful account, the following are the steps to buy cryptocurrency:
Once the user has created their account on Paxful by filling in all the required information including the name, email, etc the user is set to proceed ahead.
The next email will be sent to verify and confirm the user's account. After confirmation, buyers have to visit their profile page to verify their mobile number.
Then the next step is to fund the Paxful wallets. The platform has multiple payment options.
Once the funds are deposited users can start buying. Now go to the dashboard again and click on the cryptocurrency to buy and the quantity to buy. Then select a preferred method and the currency from the website.
Now users will see a list of sellers. Buyers can review the sellers by their photo ID or their selfies and make sure that they are verified.
Once the verified seller is selected, buyers have to enter the crypto amount they want to spend. Then the funds directly go to Paxful Escrow. The seller receives it once they provide the digital currency to the buyer.
Following are the steps to sell cryptocurrencies on Paxful:
The first step is to create a sell offer and set up the payment method.
The next step is to set up the trade pricing and offer limits.
Now the users have to write clear trade instructions and complete the transaction.
Now, wait for someone to trade with you and complete the transaction.
Paxful sellers have to pay transaction fees when they sell crypto to their buyers. Selling fees vary depending on the payment mode. For bank transfers, Paxful charges 0.5%, for cryptocurrencies, fiat currencies, credit cards, debit cards, and online wallets, the platform charges 1%, and for gift cards, they charge 3%.
Competitor Analysis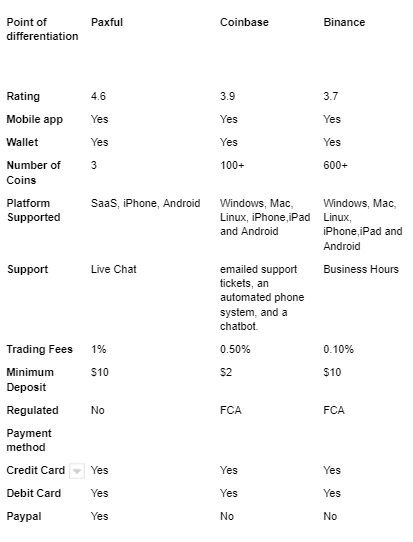 Can Users Trust Paxful?
Paxful is a legal marketplace that allows you to connect with sellers authenticated by the exchange through biometric verification. Apart from this users can trust the platform with their money with the platform's features.
Is Paxful Regulated?
Paxful is not a regulated platform but this isn't particularly a reason to question the platform's integrity. Paxful assures the utmost security to its users through verification and the user's KYC.
 Is Paxful Safe?
As an exchange securing the digital assets of the user is the utmost priority of Paxful thus making it one of the safest exchanges. It has two-factor authentication with escrow services for transactions as well.
Is the Paxful Wallet Safe?
Paxful works as a fair Bitcoin wallet and is compatible with other coins. It is not as user-friendly as some other wallets, like Metamask, which can be connected to your browser.
Paxful CEO Ray Youssef is encouraging users to take control of their Bitcoin by advocating for self-custody rather than trusting their assets with crypto exchanges. Youssef has taken responsibility for over 11 million users and believes that investors should not keep their savings on Paxful or any exchange, only what they trade. He will send weekly emails advising against storing cryptocurrencies on any exchange, including Paxful. This move shows Paxful's commitment to putting users first and prioritising the safety and security of their assets.
Is Paxful's Customer Service Reliable?
Customer support is limited on the platform, but Paxful has a help center with a wide variety of FAQs to increase the knowledge base of the users. There is also extended support in the form of live chat that can be accessed through the website and mobile as well.
Trading Responsibly
The crypto market is highly volatile and has yet to mature. Market conditions can cause a token to go from its record price to the ground in a very short span of time. Only invest as much as you are willing to lose. Before jumping in, make sure to do your due diligence and understand how the crypto market/individual project works, when to invest and when to withdraw. Users should only use bots that are verified by several different independent reviewers and invest as much as they are ok with losing and research each potential investment as much as possible.
Suspension of Operations
Even if arguably becoming one of the most popular peer-to-peer cryptocurrency exchanges in the world, has announced that it will be suspending its operations in the near future. The company cited regulatory concerns and increased competition as the reasons for its decision. While the company has not provided a specific date for its closure, it has assured its users that their funds will be safe and can be withdrawn at any time.
Despite Paxful's upcoming closure, the exchange remains a trusted and reputable platform for buying and selling bitcoin. The platform has a large and active user base, making it an excellent choice for those looking to trade bitcoin peer-to-peer. Moreover, Paxful has a user-friendly interface and a range of tools and features to help traders make informed investment decisions.
Overall, Paxful has been a significant player in the cryptocurrency space, and its suspension of operations will undoubtedly be felt by the community. Nevertheless, the exchange has assured its users that their funds are safe, and traders can continue to use the platform until its closure. If you're looking for a reliable and user-friendly peer-to-peer bitcoin exchange, Paxful remains an excellent choice until its closure.
Conclusion
Currently, Paxful is one of the most well known and secured trading platforms in the market. Traders will get extra features and a wide range of payment modes with higher fees for successful and quick service or can earn low fees but miss out on the impressive features. Paxful continually tries to break this trend. With this review, the user should have gained a clear understanding of the platform and how it works. The crypto market is highly volatile in nature so an investor must have proper knowledge before entering into it.
Crypto products and NFTs are unregulated and can be highly risky. There may be no regulatory recourse for any loss from such transactions.