SHIB and Shibarium: A Deep Dive into Potential Growth and Transformation
The cryptocurrency world has witnessed myriad tales of astonishing growth and financial metamorphoses, and the Shiba Inu (SHIB) token's narrative stands as a testament to this dynamism. Recognisable by its distinctive dog-inspired logo, SHIB has not just turned heads, but has altered financial destinies. From October 2020 to October 2021, SHIB's value soared by a staggering 2,500,000%. To put this in perspective, early adopters who invested mere cents or even a few US dollars during its ICO stage or shortly after its debut found their net worth catapulted to multi-millionaire status in mere months. This journey has been nothing short of meteoric.
But, as all astute investors know, past performance is not indicative of future results. So, where does the potential lie now? Enter Shibarium.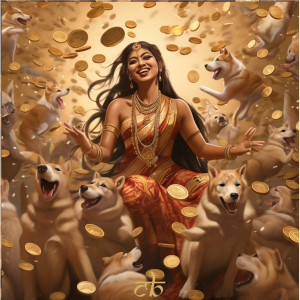 Shibarium: The Catalyst for SHIB's Next Evolution
Shibarium, SHIB's anticipated Layer 2 scaling solution, is poised to reshape the ecosystem's dynamics. Slated for a grand launch beteen the 13th and 17th of August 2023, Shibarium is more than just a technological progression; it's a vision for SHIB's future.
The tokenomics behind SHIB and Shibarium provide a fascinating prospect for investors. Here's an illustrative breakdown: If Shibarium consistently orchestrates a burn of 5 trillion SHIB tokens every month, it would culminate in an annual reduction of 60 trillion tokens. For SHIB to touch the ambitious but not improbable price point of $0.01 — and maintaining a market cap of $4.7 billion — it would require a mere 470 billion tokens in active circulation. This calculation underscores the need to obliterate an overwhelming 569.5 trillion tokens from the grand total. Given the aspirations and objectives of Shibarium, the potential for SHIB to ascend to $0.01, thereby magnifying its value by 1,000 times, is well within the realms of possibility.
At present, as the Shibarium launch draws near, the SHIB token is riding a bullish undercurrent. Over the past week, this meme-inspired coin has overshadowed stalwarts like Bitcoin (BTC), Ethereum (ETH), XRP, and Dogecoin (DOGE). With the impending introduction of Shibarium, both novice and experienced investors are keenly analysing SHIB's trajectory.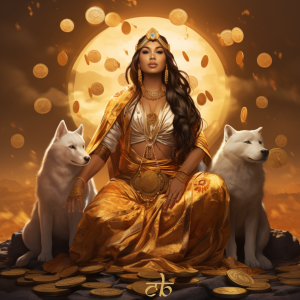 Deconstructing the Momentum: SHIB's Price Dynamics
As per recent data, SHIB stands priced at $0.00001005. A holistic analysis of the coin, in anticipation of the Shibarium launch, hints at strong bullish trends. The SHIB/USDT, on its daily chart, is gravitating towards the upper echelons of the Bollinger Bands indicator, signalling sustained bullish momentum.
However, the path forward may not be devoid of hurdles. The upper Bollinger Band acts as a resistance threshold. Thus, while the price could surge further, a minor retraction is equally plausible. Contrasting indicators such as the Relative Strength Index (RSI) — which is at 69, suggesting the token may be leaning towards the overbought spectrum — and the MACD, which is above the signal line indicating bullish momentum, offer a dual perspective. While the RSI suggests an imminent price correction, the MACD emphasises the continuation of buying interest.
In the grand scheme, the SHIB token might witness a consolidation phase or a marginal dip, before potentially embarking on an upward swing once more. Astute investors are advised to keep a vigilant eye on price movements, especially the pivotal support markers at $0.0000077.
As a current snapshot, according to CoinGecko's metrics, SHIB has appreciated by 18% and 24% over the preceding 7 and 14 days, respectively.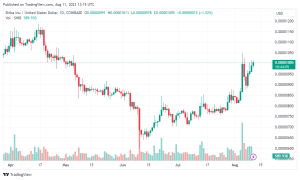 In conclusion, the synergy between Shiba Inu and the forthcoming Shibarium platform represents an exciting phase in the cryptocurrency's journey. As the dynamics evolve, the potential for SHIB to redefine its trajectory — and for its investors to possibly reap significant rewards — becomes an intriguing prospect to observe.
Shiba Inu Price Predictions in 2023 & Beyond
To achieve a value of $0.01, with a sustained market cap of $4.7 billion, SHIB would necessitate having only 470 billion tokens actively circulating. This implies the need to remove a whopping 569.5 trillion tokens from the total count.
Therefore, with Shibarium's scope and ambition, about to launch in August 2023, the potential of SHIB to reach $0.01 and thus 1,000x in value is rendered realistic. 
Best Brokers for Buying SHIB in September 2023
Libertex offers all SHIB enthusiasts a 100% match-deposit bonus, doubling your available investment funds. Therefore, if you invest $10, you will effectively have $20 worth of tokens in your investment portfolio. Meanwhile, Avatrade offers a no-deposit sign-up option for new customers.