The renowned soft drink beast, Pepsi, dropped the news of launching their initial non-fungible tokens (NFTs) collection exclusively for the Indian market.
To make its relationship with the digitally savvy SWAG generation stronger, PepsiCo India Design Team has partnered with Timea Balo, an illustrator, to create the NFT collection for Pepsi Black landing on the brand's pillars of transformation, creativity, and evolution. Embedded in the brand's strong reputation in the space, Pepsi will be launching a collection of 20 NFTs that will be minted on the Polygon network.
The NFT collection will be specifically oriented towards the upcoming generation that believes in the power of a creative imagination and are extremely inclined toward evolving technology. The 'Pepsi Black Zero Sugar' NFT collection will be focused on modifications of the Pepsi Black Zero visual. This will be influenced by the brand's dedicated aspects that roll the most with the youth today such as fashion, gaming, music, dance, creativity, the environment and the deepening approach towards social media. There will be three variants of each theme and four variants influenced by music. The Pepsi Zero Black Sugar collection will be live on the Opensea marketplace which happens to be one of the best NFT marketplaces.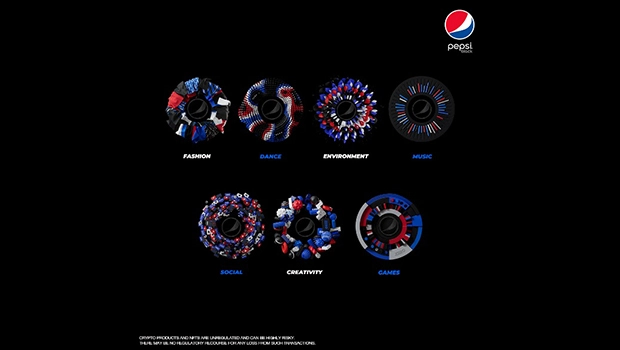 There will be a #PepsiBlackeffect challenge for the fans on the social media platform, Moj, and the winners will be awarded these NFTs as prizes. To take part in the challenge users have to use Pepsi Black lens and display their max SWAG personalities to get a chance to win Pepsi Black's maiden NFTs.
To enter the competition users are required to create a short video on Moj, by tapping on the 'Pepsi Black Zero Sugar' lens in the app. The lens is created to illustrate Pepsi Black's 'Max taste, zero sugar' philosophy. Next users can click on the available four portraits in the lens along with the product and the brand's irreverent SWAG. Winners will be selected from these collages and given these NFTs from Pepsi Black Zero Sugar' collection. The user needs to have a wallet to collect the NFTs. Not only, NFTs winners will also receive Pepsi merchandise.