Dogecoin Value Sees Sharp 30% Reduction Over 4 Days
This recent downturn underscores the prevailing negative sentiment, which has interrupted Dogecoin's earlier positive traction, nudging it into a pessimistic phase.
The Dogecoin price diagram underscores this downturn. Also, the daily MACD showcases an evident downturn, whilst the RSI seems to be recovering from levels indicating it was previously overextended. To cement this viewpoint, the daily graph reveals a 'death cross' amongst the Exponential Moving Averages, indicating potential gloom for the near to intermediate term.
Yet, Dogecoin is hinting at a bounce-back, as it steadies around $0.0615 (₹5.12). This suggests a potential positive shift in the near future.
Boost Your Portfolio's Potential with Dogecoin Forecasts.
Over half of the Dogecoin storage points are currently in a loss-making state. Specifically, 56.6% of those holding Dogecoin would be at a disadvantage if they decided to liquidate their holdings at today's market rate.
Conversely, nearly 41.5% are poised for profits, while close to 1.93% stand at a neutral, neither-profit-nor-loss position.
Despite the Downswing, Dogecoin Address Creation Remains Robust
In the recent month, the aggregate number of Dogecoin holders has shown impressive growth, with an average of around 4.81 million entities holding onto the cryptocurrency.
Rise in Dogecoin's Active Addresses
Over the preceding week, there's been an explosive 131% increase in active Dogecoin addresses. There's also been a noteworthy surge in freshly minted Dogecoin addresses, close to 100%. Meanwhile, addresses that have yet to be credited with any coins have rocketed by an astonishing 367%.
Dogecoin Buzz on Telegram Leans Positive
The conversation surrounding Dogecoin on Telegram leans substantially towards the positive, with favourable comments outnumbering the negative ones by more than tenfold. Nonetheless, it's worth noting that the Dogecoin community on Telegram has seen a drop in numbers since the tail end of 2021.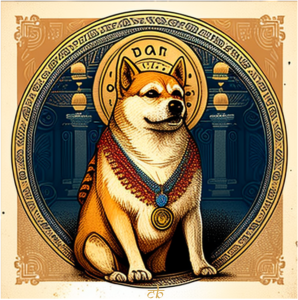 A Significant Portion of Dogecoin Held by Everyday Investors
A closer look at Dogecoin's ownership dispersion reveals promising trends. Ordinary investors hold more than one-third of the total circulation. In comparison, a cluster of 74 sizeable investors, each owning between 0.1% to 1% of the coins, jointly possess roughly 21.4% of the entire circulation.
It's worth highlighting that nine dominant addresses, often referred to as 'whales', control just shy of 44% of the entire Dogecoin circulation.